"Polycystic Ovary Syndrome (PCOS) is one of the most common female endocrine disorders affecting approximately 5%-10% of women of reproductive age (12–45 years old) and is thought to be one of the leading causes of female infertility". –Wikipedia
One of the problems with PCOS is that the body makes too much insulin. The many results one can see may include loss of hair, weight gain in some cases, erratic menstrual cycles, craving (and loading up on) carbohydrates and sugar, and in some cases, infertility.
Unfortunately one of the things most prevalent in those with PCOS is a poor diet, the Standard American Diet doesn't take a stand for those suffering with something like PCOS. The daily carb load fills these women with unnecessary sugars and, when they find themselves hungry again sooner than later, what they reach for are more carbs. This vicious cycle sets them up with a sugar handling issue as the body breaks these carbs down into sugar.
Research shows that a diet rich in fruits, vegetables, lean proteins (grass-fed meats are naturally lean), healthy fats and minimally processed foods may result in fertility, the goal many women with PCOS are aiming for. Fruits that are going to be better for your body to handle (because they have the lowest glycemic index) are lemons, limes, berries and granny smith apples. If you like your bananas, include them once a day in a protein and greens based smoothie as they will be better buffered there than eaten alone.
For consuming vegetables, you'll want to break them into two categories: the starches and non-starches. The starches are the potatoes, squash, carrots and beets. It's best to only consume these once per day. The non-starches includes everything else: celery, greens, bell peppers, lettuce, green beans and most others. These you can eat as often as you'd like. In fact, I recommend that you consume twice as many vegetables as fruits to support the regulation of your blood sugar.
In the grains category, consuming whole non-glutinous grains coupled with a healthy fat or protein will support the body in digesting and processing these foods. Whole grains with a pat of pastured butter, a teaspoon of coconut oil or olive oil stirred in with fresh berries for a warm morning breakfast topped with ground nuts or with a bit of Braggs Amino's, wilted greens and a side of pastured chicken for a nourishing dinner.
The effects of insulin resistance on our bodies also results in the need for nutraceuticals, nutritional support specific to the missing vitamins, minerals, herbs and foods necessary for optimal healing.
Exercise is also important to boosting metabolism, which will help to stabilize your insulin levels. Finding 20-30 minutes a day of mindful exercise, whether that's a brisk walk, a yoga class or cycling, find a way to exercise that brings you peace and fills your heart. If you don't find what fills your soul, you won't stick to it.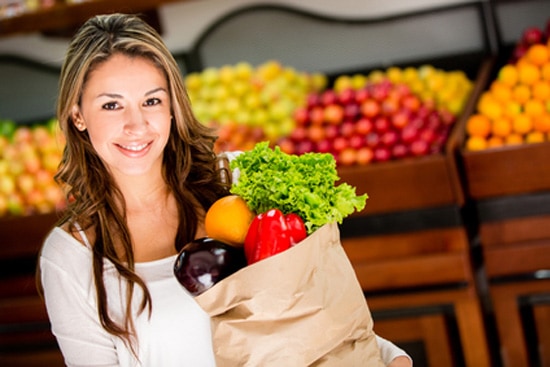 I'll leave you with one last tip towards breaking those carb cravings that also helps to boost your metabolism and gets your body burning fat instead of its own lean muscle mass: eat within 30-60 minutes upon rising in the morning.
Break that fast with a concentrated protein, giving your body a boost in energy and metabolism and curbing the vicious hunger craving that has you grabbing that white flour blueberry muffin from the break room at work. It might be just a handful of almonds or trail mix, a boiled egg or a protein smoothie. Set yourself up with success by having something prepared and set up to grab quickly in the morning within 30-60 minutes after you rise and before you start your day.
 Have you successfully dealt with your PCOS by reducing overall carbs/eliminating refined carbs?