When giving gifts for the holidays, you want to be able to give many of the people in your life a gift that's useful and pretty. This oatmeal cookie mix is quick and easy to put together (and budget friendly too!) and it looks so lovely in a simple mason jar.
One of the biggest benefits of this recipe is that it can be used by so many people! It's perfect for those that have no food allergies and yet it can also be used by someone that can't eat gluten. This mix is naturally gluten-free – no need to use a bunch of different flours that still don't seem quite "right".
My health changed my cooking
In September I started waking up with splitting headaches. I can handle many types of pain but headaches debilitate me quicker than you can say ibuprofen.
I kept telling myself that the issue was a lack of sleep and used that as an excuse to take afternoon naps. Still, they persisted.
Finally, I read through the list of gluten intolerance side effects. Turns out there were more than just headaches pointing in that direction. I've always been leery of fad-diets and going gluten-free has been quite the fad in the past few years. Still, I couldn't deny the fact that I would start doing permanent damage to my body if I was forced to take acetaminophen or ibuprofen to function each day. So I rapidly cut gluten from my diet.
The headaches left just as rapidly.
Mornings became infinitely more enjoyable.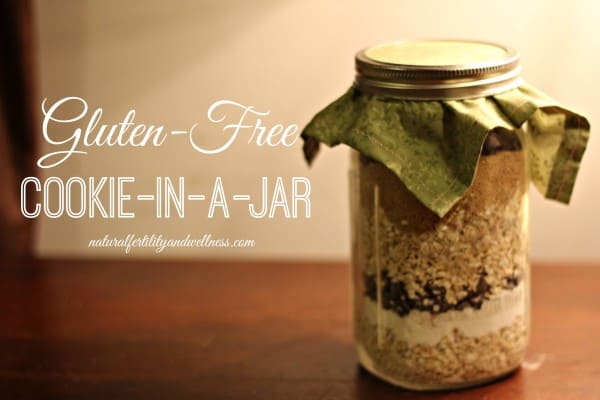 And, as it turned out, cutting out gluten wasn't nearly as difficult as I assumed it would be. There was a slight learning curve (the moment when I found out how many products use wheat ingredients!) but there was an added blessing that I had never considered.
Right after I switched to gluten-free we had a church potluck. I went through the line and filled my plate with applesauce, salad, and cheese slices. While everyone else was dipping into the enormous table of desserts, I got a cup of coffee and another serving of applesauce.
There is a family who attends my church with several daughters who have celiac and have to eat gluten-free or experience severe health problems. I noticed one of the girls crying and when we talked, found that she was battling through the frustration of feeling left out and alone in her "handicap."
Right then and there I realized that I can allow this new diet to frustrate me, or I can look at it as a chance to bless others, especially the children, who are walking this road.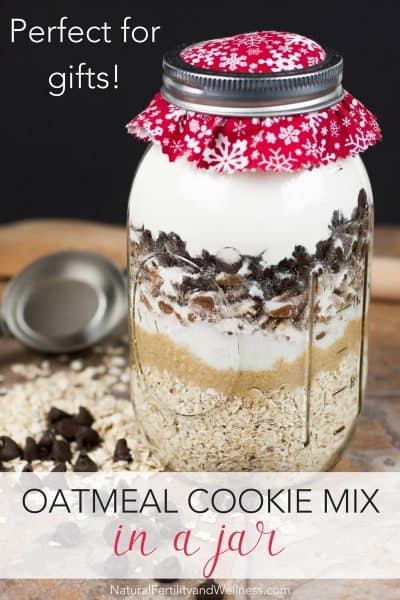 I went home that day and worked on perfecting a gluten-free oatmeal cookie recipe that would rival any gluten cookie on the market. The next week at Bible Study I produced the crispy, buttery concoctions and the girls smiled their thanks.
Slowly, but surely, my recipe collection is growing and I'm actually excited to usher in the holidays, gluten-free style!
Now, I'm sure you've seen those pretty cookie-in-a-jar gifts that break out every holiday season (who hasn't?). Well, I've adapted my oatmeal cookies so you can create your own gluten-free version! And even if you don't require it for health reasons, don't be afraid to try these out.
Printable gift tag

Print Recipe
Gluten Free Oatmeal Cookie In A Jar
Ingredients
Layer the first 7 ingredients
½

cup

gluten-free chocolate chips

1

cup

gluten-free quick oats

1

Tbsp

cornstarch

½

tsp

gluten-free baking powder

¾

cup

sucanat

1 ¼

gluten free quick oats

½

cup

gluten-free chocolate chips
Add the following ingredients to make now
1

egg

½

cup

butter

softened

1

tsp

vanilla
Instructions
Layer first seven ingredients in glass jar. Make sure to push the baking powder and cornstarch up around the edges, leaving the middle hollow. They are the only white ingredients and you want to make sure they show clearly in the glass.

Cap and cover lid with material. Tie with ribbon and attach printed directions.

To make now: Pour quart jar of dry ingredients into a large bowl. Add egg, butter, and vanilla. Mix well. The batter will be very thick. Place rounded spoonfuls on baking sheet. Flatten slightly with the back of the spoon. Bake at 350 degrees for 12-14 minutes.
Notes
Variations - another brand of sugar will work, but sucanat a great whole-food choice and adds a rich flavor to the cookies.
Non-grocery items needed: 
Glass quart-sized canning jar with lid
A square piece of material – optional
Ribbon
(Don't forget the printable gift tag!)