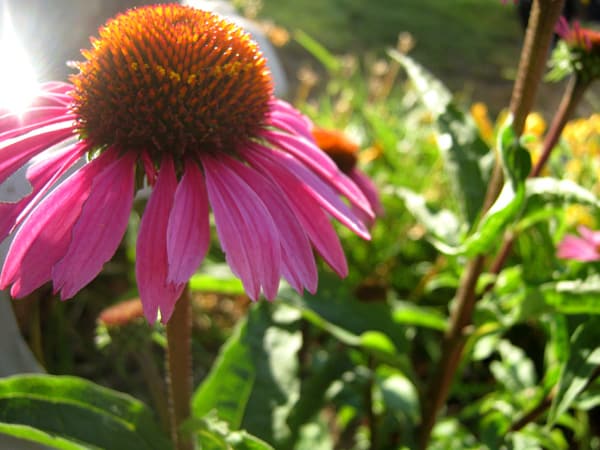 There's no sugar-coating it, insomnia stinks.
Through my life I've had plenty of nights here and there where I didn't sleep well. Usually it had to do with something I ate or drank, sometimes due a stressful situation, and other times due to taking a nap during the day. So when I dealt with chronic insomnia I didn't really know what to do.
Of course the worst part was that I was completely fatigued and had major brain fog during the day so I had a hard time following through on any treatment protocol I thought of.
It began with my miscarriage almost three years ago. At first I couldn't fall asleep (which is very common due to emotional and physical stress as well as the hormonal changes) and within a month or so I was also waking up each night only a couple of hours after I had fallen asleep. This went on for a year and a half, five hours of sleep was a good night. I was a walking zombie during the day and it was affecting just about every part of my life! I was grumpy to those I loved, scatterbrained and forgetful, and so consumed and overwhelmed with my own life I was a horrible friend.
Over the course of about two months, following the tips below, I was finally able to sleep again, getting 8-9 hours of sleep each night.
This is a Type-A Parent paid post to discuss sleep issues, and to share a new insomnia resource from the National Sleep Foundation.
Three natural tips to overcome insomnia
1. Get tested
I always knew that some nutrients are associated with a good nights sleep, but I figured that wasn't my problem as I ate quite a healthy diet. But in my quest to figure out why I always felt so horrible my doctor ran a myriad of tests. Come to find out, I was deficient in both Vitamin B12 and Vitamin D and began supplementing right away.
It wasn't a quick fix, but within the first week I began to remember my dreams again, something I hadn't done since my miscarriage. I also felt like the sleep I was getting was a better quality, deeper sleep. So if you're dealing with insomnia, make sure to check with your doctor and get tested for common nutrient deficiencies.
We also found through testing that my thyroid was running on the slow side and my adrenals weren't functioning very well at all.
If you have chronic stress in your life, it's probable that you might be dealing with adrenal fatigue, with insomnia being one of the major symptoms.
2. Go to sleep earlier
Going to bed early has been a difficult thing to do in many seasons of my life, whether it's dealing with a baby/young child or staying up late to work and write. I was really good at trying to squeeze in a few extra hours to my day and after bedtime seemed like a great way to do it. Especially when I was most likely dealing with minor adrenal fatigue in the beginning and my second wind (boost of cortisol) hit me around 11pm. All of a sudden I had plenty of energy, a clear mind, and a quiet house.
I knew that going to bed earlier was probably going to be helpful, but I began to experience that 11pm wakeup, even when I went to bed 30-60 minutes earlier. What I found was that I needed to be in a deep sleep by that time for my adrenals to chill out and rest as well. So we began going to bed by 9:30pm most nights and that seemed to take care of my inability to fall asleep as well as waking up soon after I fell asleep.
3. Cutting back on night snacks
I don't know if this is the same for everyone, but I began to sleep so much better after giving up my nighttime snacks! Granted, I still snack at night sometimes, but when I was still dealing with middle of the night waking (I woke around 2am and couldn't sleep again until 4am) it was immensely helpful to not snack at all, especially anything heavy or in mass quantities.
I do know that the body works to repair and detoxify at night and when it's busy digesting it may not function as well as it needs to in other areas. My body may have needed that time of rest so that it could fully heal. So for a couple of months I made sure I ate dinner before 5:30 to make sure digestion was well on its way before I fell asleep.
Of course, there were other things I did as well, like:
cut out caffeine
light exercise in the morning when possible
no napping after 11am
no sweets after lunch
limited my schedule to allow for extra rest for my adrenals
I still have nights of insomnia, but instead of every night, it's only once or twice a month. I finally feel good and can think a lot more clearly!
How have you dealt with insomnia?

Be sure to check out a new resource from the National Sleep Foundation at sleepfoundation.org/insomnia – a good place to start if you think you have insomnia or aren't sleeping. The National Sleep Foundation is your trusted resource for everything sleep – understanding how sleep works & why it's important, learning healthy habits, creating a relaxing bedroom & bedtime routine, & finding solutions to your sleep issues.