After dealing with this cold/throat thingy I've got going on, I thought I'd share a few natural coping tips that seem to help alleviate symptoms. (Don't get me wrong – I love me some Nyquil when it gets bad enough where I can't sleep! But it's especially important to stay away from a bunch of crazy meds for young kids, pregnant women, and sometimes even when trying to conceive as medications like Ibuprofen have been shown to delay ovulation. Natural cold remedies can help reduce your symptoms so you don't feel quite so miserable.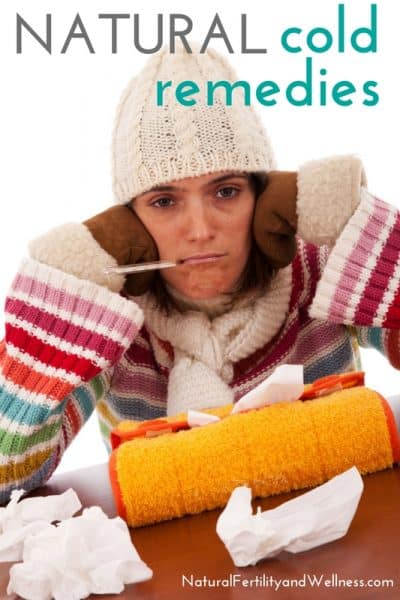 So here are 13 natural cold remedies
(most of which I already had at home!)
Take extra vitamin C at the first sign! Sometimes this actually keeps it at bay for me, other times it just lessons the pain and stuffy-ness I feel.

Hot soups and stews

– Chop up some extra garlic, let it sit for 10 minutes, and add it in while cooking the broth. Not only do the ingredients in a bone broth soup promote healing, it's a wonderful, soothing way to help clear congestion!

Sinus cleansing

– Whether you use a nettie pot or a bulb syringe, this actually helps! Mix up about 8 oz of warm water with 1/2 tsp salt and a pinch of baking soda. Lean over the sink with your head tilted to the side and down (don't try and look in the mirror – you'll feel like you're drowning when the water goes down the back of your throat!) Tip the pot or slowly empty the bulb syringe into the nostril. Feels funny, but it will loosen things up a bit! Try and do this 3-4 times a day, especially in the morning and right before bed. Boil and then cool the water to room temp before you use it in your neti pot though!

Blow gently

– Especially when pregnant, your sinus cavities are kinda fragile and all the extra blood you have to support baby will make it so your nose bleeds more than normal. Blow with both nostrils open and only when you really need to.

A tablespoon of raw honey

  helps sooth the throat along with it's healing properties. Also helps as a cough suppressant! Add some cayenne pepper to it for an added benefit. (personally this did not work well for me as the specific virus I had attacked my throat and it was majorly inflammed.)

Drink "hot lemonade"

– Use the juice of a lemon, along with some raw honey and add to hot water. Adding in some powdered ginger helps "sweat" out the virus as well.

(My advice would be to be careful if you're already dealing with a high fever though, because it does have quite the warming effect)

But drink a cup while wrapped up in a warm blanket and stay there. This gave me a very mild fever for a night while sleeping under heavy blankets, but I did feel much better in the morning.

Drink lots of hot liquids

, especially hot herbal teas. Any warm liquid will help loosen up all that mucous and get things draining. Especially soothing for a sore throat.

Sleep

– as much as you can! Hard to do with a little one at home, but I did get in some extra sleep every time he took a nap. A well rested body can heal much faster than a worn out one.

Gargle with warm salt water

– Especially helpful in the morning to rid yourself of mucous accumulation in the back of your throat and sinuses.

Hot showers

can work wonders on relieving congestion. And while standing in there, take a wash cloth and hold it over your throat and chest to help break up congestion. This also works well for little ones in the tub. Apply the warm cloth a few times in a row to the front (until it cools) and then to the back.
Use either a

warm mist humidifier or a vaporizer

in the room you spend the most time in as well as your bedroom. Not only does this help keep things moisturized, but it also aids in keeping the "dust" down so as not to irritate your sinuses and throat.

Ice water

– works wonders for a sore throat. Do what you can with warm liquids and such to help with congestion and drainage, but go for the ice water when it hurts to swallow.

Popsicles

(and ice cream) are also another wonderful treat to a sore throat.(use as a last resort though – sugar isn't good for an already compromised immune system!)
Now these are all things to help alleviate symptoms, they are not a cure. Unfortunately the virus does need to run it's course first, but they do help you feel just a bit better while suffering through them!