My husband knows that when he wants to buy me a special treat, it's ice cream.
There is just something about it, I'd take it any day over chocolate candies. I even eat it all winter long!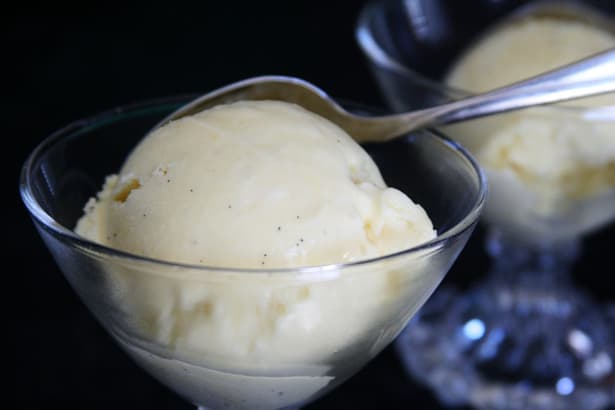 But can it be healthy for you? Can a cool and creamy treat made nutrient dense ingredients and with probiotics be too good to be true?
Absolutely not!
This ice cream is made with fresh kefired cream and whole milk, making it rich in probiotics, and slightly tangy, much like real frozen yogurt. You can also reduce the length of fermenting time for your family's taste buds, starting with 6-8 hours and increasing it each time you make it.
Vanilla kefir ice cream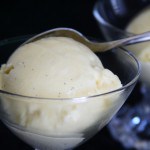 Print Recipe
Vanilla Kefir Ice Cream
Ingredients
1 1/2

cups

raw cream

1 1/2

cups

whole milk

3

pastured egg yolks

1/8

or a large pinch celtic sea salt

1/2

– 3/4 cup real maple syrup

honey, or whole cane sugar

2

tsp

vanilla OR 1/2 tsp vanilla and 1/2 vanilla bean
Instructions
Combine cream and milk (you can use all cream if you prefer – I just never get that much with my cow share) and let sit out overnight, or at least 12 hours, with kefir grains. This cultures the dairy and gives it wonderful probiotic properties while also making it easier to digest! In the morning strain out the grains and place into the refrigerator to cool completely.

About one hour (or more) before making the ice cream, stir the remaining ingredients into the cream mixture and place back in the fridge. This will make sure everything is nice and cold when it goes into the ice cream maker.

Pour into your ice cream maker and follow manufacturers directions. (mine takes 30 minutes)
For me, ice cream is the one "treat"  I miss the most when I stick to a whole foods diet! Having a tasty option that I know is also good for me keeps me from heading down the frozen food aisle at the supermarket.