I haven't planted garlic in five years. In fact, I still have some stragglers that come up from my last planting and I can't bring myself to do anything with them. It wasn't a conscious choice, but it was still my choice. Five years ago, as I was planting garlic on a cold Fall day, I realized I was miscarrying my baby.
That spring when the frost  broke, I started to see little green shoots of garlic and it was a slap in the face as to what was missing in my life. I made a piddly attempt to weed them as I hate the idea of wasting, but my heart wasn't in it. I dreaded spending time out there. Then due to my lack of care and weird summer weather the garlic died. I somehow saw it as fitting as I felt I should have been out there weeding with a baby belly in my way.
I never would have dreamed that the garlic in my garden would stab at my heart as if the loss were fresh in my mind. I've found it is the small things that knock me over with grief. Yet, it is those same small details that make my heart swell with the reminders of my lost little ones, their time short here on earth, that are sweetly waiting in heaven.
My first miscarriage was five years ago, my most recent loss was just a few weeks ago. Each baby,while only here for a bit, touched my heart so deeply. My love for them was instant and fierce. My heart changed with each of them. And while some days I want to hurl bricks at something with the thought of the babies I don't have with me, most days I can smile at the thought of the blessing of each of them.
After I finished planting the garlic that fall, I needed to get my mind off of what was happening to my baby and decided to take a drive. Only about a mile down the road there was an odd little down pour of rain but in the sky was the most beautiful rainbow I had ever seen. My heart beat with joy as I knew instantly that while this baby was not going to make it that everything was still going to be okay.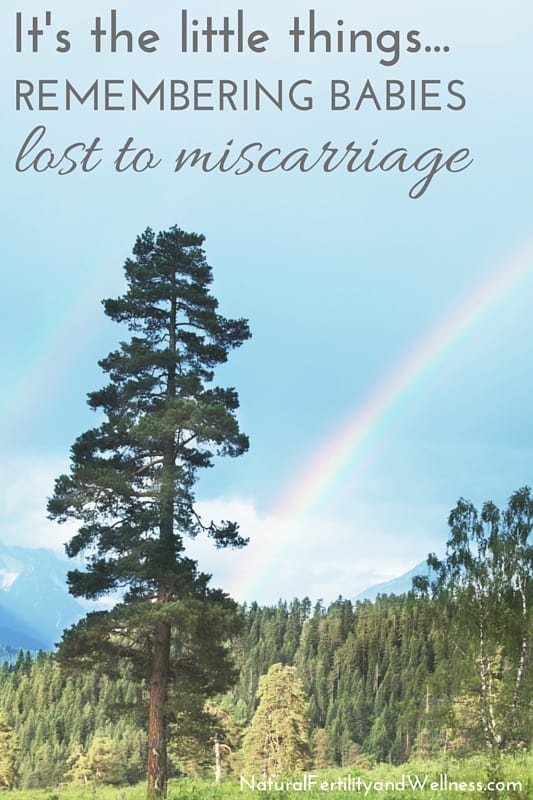 photo credit – Komchatka, canva.com
With my most recent miscarriage, my heart was so guarded. But, I decided to be excited any way. Life is life, no matter how small or how long. This baby had my heart. We had been praying for three years for this little one. Part of me knew that this baby wasn't going to make it, but I allowed myself to hope just as I knew I would allow myself to grieve. I take each moment as they come and have felt a great peace in my heart.
The first time after my last miscarriage that I went shopping I almost had to leave without my groceries. I walked by a woman so full of life she had to have been due any day. She had a smile on her face that held the innocence that pregnancy is natural and she looked forward to meeting her little one. It was like someone had hit me over the head with a bat.
I kept going, determined to enjoy myself at the store.
I was almost done and then I heard it. I heard the distinct cry of a newborn and I made the mistake of turning around. I saw the baby's mama stop and pick up her bundle of sweetness and softly coo to her.
I was done, whether I had everything on my list, I really don't remember but my heart was done. It had been jabbed enough for the day. It was too soon.
Yet, just a few weeks later, I saw a mom at the park with her little baby. I was captivated with them and the smile on both of their faces. It made my heart happy to see their joy. I smiled thinking about my own babies and how I loved them all so deeply.
It really is those small moments that make up all the emotions of life. I'm so thankful to feel them all, the sad and the joyful.
It maybe awhile before I plant garlic in my garden again. But, next spring as those fresh green shoots come up when the frost breaks, I'll still feel a prick at my heart for my little one, though time has made that prick a bit more dull. Now, I wear a smile on my face when I see it.
After five years I see it as a blessing, as winter ends new life springs forward and always brings hope with it.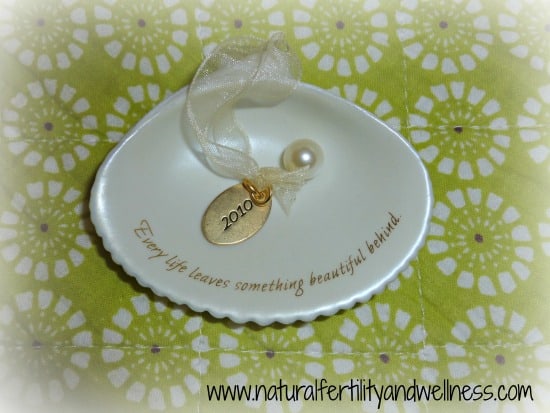 What are the little ways in which you remember the babies not here with you?
More info regarding miscarriage and loss:
Donielle's story of miscarriage: