Classic sauerkraut is a fantastic way to consume beneficial probiotics, keeping your digestive system, and YOU healthy. This recipe was sent to me by Scott from Zukay Live Foods. I've been making this simple recipe for years and it's become a regular staple in our home. (Heck, we've even been known to put some in the RV fridge to bring with us on trips!) As fermented foods go, it's really easy to learn how to make sauerkraut at home.
But first, why would you want to make sauerkraut? It contains a lot of good bacteria that
may kill off and take the place of bad bacteria and yeast,
during the fermentation process, the bacteria like lactobacilli actually create vitamins and antioxidants that weren't there before,
help make the vitamins and minerals easier for your body to absorb
supports the physical and chemical digestion of food, and
they may even help train your immune system to work better by training it to better know friend from foe.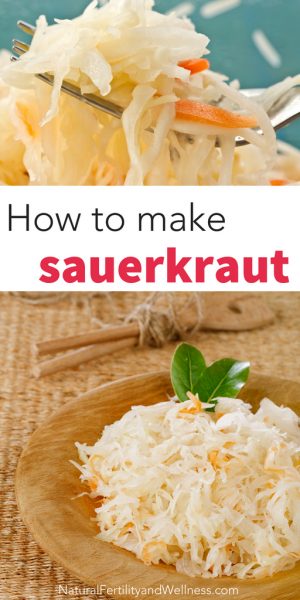 How to make sauerkraut
Print Recipe
Classic Sauerkraut
Ingredients
1

large head of cabbage

2

tsp

sea salt

I prefer Celtic or Real Sea Salt

Non-chlorinated water

2

tsp

caraway seed

optional

1

large shredded carrot

optional
Instructions
Peel off any older, discolored cabbage leaves.

Cut cabbage into quarters, and thinly slice into ¼ in thin, long strips.

Place all cabbage into a metal bowl, add salt and caraway seeds, and wait 5 minutes.

Mash with potato masher until cabbage starts to expel water and becomes flat and soft (about 5 minutes of mashing). Alternatively, I've also used my stand mixer with a basic paddle attachment (at a low speed) and it works well!

Once this is done, put cabbage into a quart-sized mason jar. Push down hard onto cabbage, until cabbage juice covers sauerkraut. If there is not enough liquid from the cabbage itself, add non-chlorinated water until cabbage is fully covered.

Close lid tightly and allow to sit at room temperature for at least 1 week, and up to 6 weeks for full flavor.
Notes
Note: Give at least one inch of space at top of the jar to allow for expansion from gassing from fermentation.
Equipment needed for making sauerkraut
Large metal or glass bowl – cabbage expands a lot after you cut it into strips! You'll want either a very large bowl or you'll have to work in batches.
Potato masher or large wooden dowel – to help release the juices from the cabbage you'll use one of these to press and mash it
Quart-size mason jars – the easiest and least expensive way to ferment and store the cabbage. A simple mason jar with two-part lid is easy to find at most supermarkets and hardware stores.
Optional equipment
Stand mixer – instead of mashing the cabbage with a potato masher I simply put 1/4 of a head of cabbage into the mixing bowl, stir in the salt and let it sit for 5 minutes, then use a paddle attachment to essentially mash it for me! Super easy and only takes a couple of minutes.
Fermentation weights – These are essentially clear glass weights meant to hold the vegetable material below the juices, reducing the risk for mold. I bought the brand Pickle Pebbles (available on Amazon) though there are many styles and brands now available.
Airlock lids – the process of fermentation creates "gassing" and may cause pressure to build up within the jars (which means you should be checking them occasionally and releasing this gas when needed). These silicone lids do this for you – basically, a "Set and forget" type system! I purchased Pickle Pipes along with my Pebbles I mentioned above. (these are also available on Amazon) SImply use these silicone lids with the ring from a two-part mason jar lid set.