I went years and years without ever attempting to make my own croutons, most of the time going without because I stay away from boxed foods whenever possible. Sometimes I'd purchase them if I really, really wanted them on my soup but then we went gluten-free at home and I'd have to take out a loan from the bank to buy GF croutons.
For realz, they are crazy expensive.
Then one day it hit me, why not make my own! Surely I was the first person to ever think of this right?
Alas, the interwebs abound with recipes on croutons, and I may just be a bit slow when it comes to ideas in the kitchen.
It's so simple I can't even begin to call it a recipe. But they are also so good on homemade soups that I just must tell you how to make them.
Good bread makes good croutons! I like to use my basic gluten-free bread when we don't use it all in a day or two and I've also used my gluten-free sourdough bread with great results as well.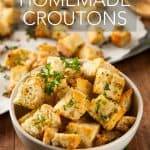 Print Recipe
How to make croutons
Super easy with your favorite bread!
Ingredients
2

cups

bread

day old, cut into 1-inch cubes

3

Tbsp

butter

melted

salt and pepper

to taste
Instructions
Preheat oven to 300 degrees.

Place bread cubes and butter into a large bowl and stir to coat.

Spread bread cubes in a single layer on a cookie sheet and sprinkle with salt and pepper. Bake for about 20 minutes, stirring two to three times during baking to make sure they don't burn.

Let cool and use sprinkled over soup or salad.
Homemade croutons make a great addition to my Creamy Chicken and Wild Rice Soup as well as this simple lentil and veggie soup and an Instant Pot Tuscan Soup.