My favorite homemade spaghetti sauce
Spaghetti is actually one of my husband's favorite meals and I also love the fact that it's so easy! Just noodles, sauce and a bit of meat. Although to make the meal a bit more balanced, it'd probably be a good idea to include a salad or something… but this homemade spaghetti sauce is so good it really makes the meal.
Homemade sauce always seemed so daunting, and my husband was very picky about the brand I was to buy. So with a bit of trepidation, I entered the world of homemade spaghetti sauce. Both he and I were pleasantly surprised, and we haven't gone back to the premade sauce since.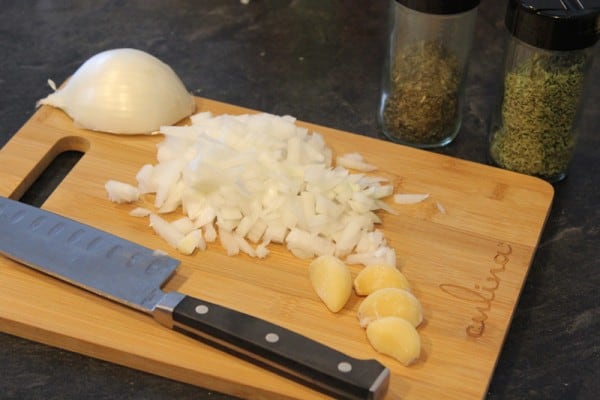 For me, the addition of fresh, and not dried, ingredients really make the sauce. In the summer I can grab fresh basil and oregano from my garden, but in the winter I do use dried. (Sometimes my own, other times from Mountain Rose Herbs as I've found theirs have great flavor.)
Onions and garlic that are slowly sautéed also add a depth of flavor not seen when using dried versions of the two.
This sauce also works great with meatballs, but rarely do I take the time to make them! Though lately, I've been making myself take the time to add a bit of sauce and cooking water to the drained pasta and the results definitely make the final product better.
Homemade Spaghetti Sauce
Recipe type:
Sauces, Seasonings, and Condiments
Ingredients
28-30 ounces tomato sauce (homemade sauce is fantastic)
6 ounces tomato paste
6 ounces water
½ pound ground beef or Italian sausage
2 Tablespoons olive oil or butter
1 small - medium onion, chopped
4 cloves garlic, minced
1½ teaspoon basil
½ teaspoon oregano
salt to taste
optional: mushrooms, diced tomatoes
Instructions
Brown beef and drain off fat. Set aside.
Saute onion in oil until soft (along with mushrooms if using). Add garlic and saute for about one minute.
Add all remaining ingredients and simmer for at least 10 minutes.
Use with your favorite pasta!
Notes
For best results, save ½ cup of the cooking water from the pasta. Once the pasta is drained, put it back in the pot and stir in the ½ cup water and one cup of the sauce. Let sit for just a couple of minutes before serving.

Top with hot sauce and fresh Parmesan.