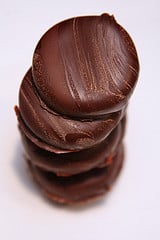 Maybe it's the fact that I grew up with a mother who loved them, or maybe it's just the perfect combination of mint and dark chocolate, but peppermint patties are still one of my favorite indulgences.
As I continue to move completely away from all refined sugar, and consume only rare homemade treats, I find myself trying to replicate old favorites for my family and I.
I came across a recipe for homemade peppermint patties right before Christmas last year when my friend Megan, from What Megan's Making, showcased the ones she made. While chock full of sugar, I thoroughly enjoyed changing up the recipe a bit and making these for my mother as a special Christmas treat.
Both the chocolate and the sugar you choose will impart a rich flavor to these little indulgences. I happened to use Ghirardelli dark chocolate and my sugar of choice is whole cane sugar (may also be found as sucanat or rapadura). To use whole cane sugar in this recipe, it's best to turn it into powdered sugar by placing about 1/2 cup at a time into a blender or food processor until it becomes a fine powder.
Print Recipe
Homemade Peppermint Patties
Ingredients
2 1/4

cups

powdered whole cane sugar

1 1/2

tablespoons

honey

1 1/2

tablespoons

water

1/2

teaspoon

pure peppermint extract

1

T

coconut oil

1/4

cup

powdered whole cane sugar for kneading

10

ounces

dark or bittersweet chocolate – chopped
Instructions
Beat the sugar, honey, water, peppermint extract, and oil in a mixer until thoroughly combined. It should be rather thick and almost kneadable.

On a clean surface, knead the sugar (with extra powdered sugar if needed so that it doesn't stick) until smooth.

Roll between 2 pieces of waxed paper until about 1/4 inch thick and place in the freezer for about 15 minutes.

Using a round cutter of some sort (shot glasses work very well for this occasion) cut out as many rounds as you can. Refreeze rounds. Gather scraps and cut out more, freezing as you go along.

While the peppermint rounds are in the freezer, melt the chocolate in a double boiler or a bowl over a pan of simmering water. (do not let the steam touch the chocolate) Once the chocolate reaches 90 degrees, remove from heat source.

Placing a peppermint round on a fork, dip into the chocolate making sure to cover well, and place patty onto a sheet of clean waxed paper until set – about one hour.
Notes
Nourishing Notes There are no notes with this recipe. It is not a health food by any means and should be made only as an indulgence and to be shared with others. 🙂