Fluoride is a chemical put in most public water systems and is placed there because experts were hoping that through regular fluoride consumption the rate of cavities in both young and old would be reduced. The metro area I live near was actually the very first city to put fluoride in their water.
Unfortunately, not only has it yet to completely be proven to be effective but it has also been shown to decrease fertility in many of the animal studies that have been done. Many studies show that fluoride consumption causes problems with sperm quality. Chronic exposure to fluoride has also been linked to thyroid and neurological disorders, hormonal imbalances, and heart disease.
Yet it's in almost every conventional toothpaste as a cavity preventer as well as to numb the teeth in toothpaste made for sensitive teeth.
Another ingredient in many conventional kinds of toothpaste is Sodium Lauryl Sulfate, an anionic surfactant (foaming agent) that is also used in many cleaning and hygiene products, both conventional and even many so-called 'natural' products. It's the ingredient that helps to cause the foaming in our toothpaste, shampoos, bubble baths, and shaving creams. It has been linked to greater risks of developing canker sores, and more importantly, it has been shown to be an endocrine (hormone) disruptor. Which means this; once it is absorbed into the body, it mimics the activity of the hormone Oestrogen causing the natural balance of your hormones to …disrupt.
Years ago, when I decided I needed to do everything I could to boost my fertility naturally, I headed to the nearest health food store and browsed the shelves for a new toothpaste. I was completely surprised by how many natural toothpaste brands had not one – but both of the ingredients in their mix.
How many people had done the same thing I had, in running out to find a better alternative for their families, and were misled by the 'natural' label?
I finally found a toothpaste that I thought would meet my requirements and bought it, but a few months later I noticed my teeth.
Don't get me wrong – I brush twice a day, floss sometimes, but how often do you really get up close and notice your teeth? I knew I hadn't been doing the greatest job in the world ( I was under a lot of stress and ended up falling asleep before brushing my teeth some nights), but I seriously almost cried.
I had dark spots between, and along the gum line, on the backs of quite a few of my teeth – tartar buildup. Obviously, I needed to try a different toothpaste!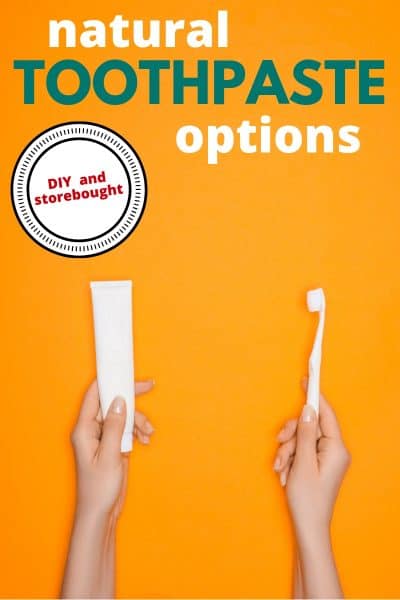 Over the years I've tested out quite a few different brands, so far, these are my favorites.
Please note – I'm also not saying these are the best options for you and your oral health, or that your dentist will love these. I'm simply sharing with you the options I've chosen over the years that have worked for me. I also believe that the way we eat has more to do with the health of our teeth than the products we choose to brush with.
I also go back to conventional toothpaste every now and then simply because I end up needing it right away and our local stores don't carry other options. Or sometimes it's simply a cost issue and I need to be extra careful with my budget for a while. I prefer to use fluoride free no matter what I buy, but I'm more worried about the negative effects of fluoride from the water I drink than I am about a small amount used topically.
Option 1: Natural Toothpaste
I haven't tried all of the natural toothpaste out there – so if you have a favorite (and it's free of fluoride and SLS) PLEASE leave a comment below to share with us! Here are my top three favorites:
Oral Essentials Toothpaste (now called Lumineux)
(available on Amazon) This one I received as a review product about a year ago and feels the most like "normal" toothpaste. It goes on the toothbrush smoothly, has a great mouthfeel while brushing, and leaves your mouth feeling fresh and clean. The one I tested out was the whitening formula and after some dental work last year (that left me with some sensitivity) my next tube will be their sensitive formula. I'll update again once I've used it for a month or two.
currently sold for $2.42 per ounce
Thieves Dentarome Plus
(only available from Young Living) This one is pretty smooth and has a good mouthfeel, though the flavor isn't my favorite. It's nice, but you don't get that "minty-fresh" feel once you're done. If you don't prefer a mint toothpaste as I do, this won't be a big deal for you. This is the current toothpaste I'm using since I purchased a few tubes and Todd doesn't prefer to move away from his conventional toothpaste.
currently sold for $1.68 per ounce
Earth Paste by Redmond Clay
(available on Amazon) Definitely less smooth to start, not a "normal" toothpaste mouthfeel, but man do my teeth feel clean after using it! It's basically hydrated bentonite clay with essential oils, so it definitely tastes "earthy" while you're using it. This toothpaste also doesn't have that minty-fresh aftertaste, but it's all worth it for me to have them feel so clean throughout the day. This is one brand I've used the most over the last five years or so.
I've worked with Redmond Clay a few times over the years and they've sent my tubes to review and I've also purchased more myself! I've always been impressed with this company and their ethics.
Currently sold for $1.80 per ounce
Option 2: Toothpowder
I've used a few toothpowders before and while they work, they do take some getting used to and it's not my favorite way to brush my teeth. The powder by Harmony Acres was my favorite ( a blend of herbs, kaolin clay, and essential oils) but I don't think they make it anymore. I also used Christopher's Tooth and Gum Powder (available on Amazon) but it was quite strong for me.
Based on ingredients, I think I'd try the Dirty Mouth Powder (available on Amazon) if I were to go this route again.
Option 3: Homemade Toothpaste
An inexpensive solution that you can change according to your needs! It takes some getting used to as the mouthfeel and taste are different that storebought toothpaste, but is a viable option for when every penny matters.
How to make natural toothpaste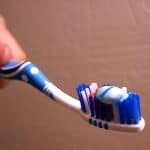 Print Recipe
Homemade Natural Toothpaste
Ingredients
2

tsp

Dr. Bronners Castile Soap – liquid

the baby mild or almond is recommended

5

Tbsp

coconut oil

melted

1/2

Tbsp

bentonite or kaolin clay

or baking soda

10-20

drops essential oil

orange, mint, etc

1/2

tsp

stevia

ground

1

Tbsp

water

tooth powder

optional
Instructions
Place 2 teaspoons of Dr. Bronners into a small bowl.

Add in the 5 tablespoons of melted coconut oil and stir to combine.

Add in the remaining ingredients and stir until combined. I used ground stevia plant (my toothpaste was green!) but you can also use stevia drops or extract, simply lower the amount used and go by taste.

If you have an herbal toothpowder, you can also add in a couple of teaspoons to this homemade toothpaste.

Mix it all together and then revel at the crazy concoction you've just made.

Pour it into a small container and let sit for a few hours so the coconut oil will solidify again.

To use, just spread a small amount onto your toothbrush.
Notes
Please be aware that if you spit it into your sink that you will need to run hot water so the coconut oil doesn't clog the drain. Some people prefer to spit into the trashcan.
You can also use xylitol in place of stevia!
Sources:
https://articles.mercola.com/sites/articles/archive/2013/10/29/fluoride-reproductive-health-dangers.aspx
https://www.researchgate.net/publication/287704425_Fluoride_and_fertility
h ttps://fluoridealert.org/studies/fertility01/