Normal family dynamics during the holidays can be tough to deal with and when you're going through infertility it makes it even harder.  Let's talk about why this is and some helpful solutions for getting through the holidays while trying to conceive.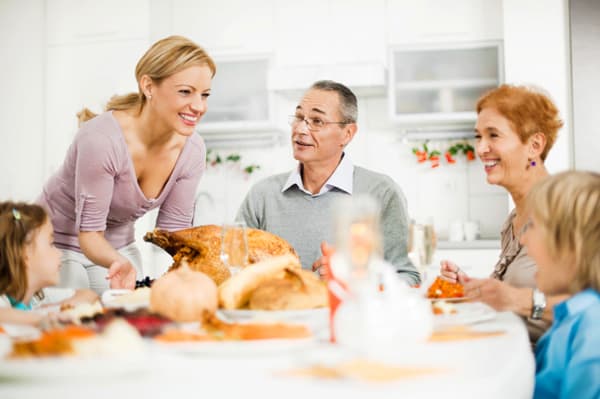 The issues that come up during the holidays while trying to conceive:
1.  The holidays are a naturally sentimental time.
We are around loved ones, kids and family.  This, of course, tends to highlight our 'lack' of pregnancy or baby.  I can remember when I was dating my now husband and I went home to visit my folks for Christmas.  The airport was full of kids, and it got me thinking.  I got home and gave him 'the talk' about how I wanted to start a family!  Luckily he was on board.
2.  We have more time on our hands.
In our busy lives, we don't have as much time to reflect.  Time off work means time to reflect, and often feelings come up that we haven't dealt with yet.
3. We have well-meaning, nosey relatives.
If people know you are trying to get pregnant, or have the opinion that it's about time you were pregnant, they make ask questions or make comments.  Some questions may be kind, some may be grossly inappropriate.  Or there is the 'silent threat,' where you feel something should be said, but no one knows what to say.
What to do about it:
1.  Pick your strategy.
You know what you might be up against at your holiday gatherings.  Is it old Aunt Ethel, sweet but constantly inquiring?  Is it your chatty, pregnant sister-in-law?  Whatever it may be, get ready!  Will you laugh it off?  Even a heavy topic and be turned light sometimes.  Will you politely say, "Thanks for your ideas, but we are feeling good about our fertility plan."  Will you smile and nod?
You may need a variety of strategies.  Just think about it ahead of time and I promise it will go much better.
2.  Have gratitude.
One of my talented coaches has me list my blessings when I'm in a funk.  We all have many more things to be thankful for than not.  And it really changes your perspective.  So, yes, actually write a list of 10-20 things you are thankful for in your life.  You can even do it in the car on the way to that holiday gathering, or if you're struggling with hurt feelings once you get home, write them down then. (Find a gratitude journal on Amazon to make it easy)
3.  Enjoy yourself.
Hey, you've got time off work, homemade pie, and a fireplace!  Enjoy it. There is still plenty to enjoy, and the happier you are the happier your hormones are too!
4.  Vent as needed.
I'm not claiming this is all a piece of cake (or pumpkin pie.)  So if you need to ask your hubby, your coach, or a friend to have a vent session, do so.  Just relish in some uninterrupted time to unload all your frustrations.  Just be sure to ask for what you need, such as, "Hey can I have a few minutes to just complain about how hard that was?  I think it will really make me feel better."
How do you handle the "baby waiting game"?  What will you do to enjoy the holidays?