Looking for a great new recipe for your menu this week? This herb crusted pork tenderloin makes a hearty and delicious dinner for any night of the week.

I think my family totally gets me.
You know. Like they know how to make my hippie real foodie heart smile!
My in-laws gifted us with some beautiful food from our local farmer for my birthday this past November, and I couldn't have been happier!
One of the gifts was some beautiful pork tenderloin that I just couldn't wait to get my hands on.
Well in my deep freezer it sat. Partly because I just wanted to know it was there (we don't usually splurge on such beautiful meat on our budget!), and partly because I had no idea what I wanted to do with it.
Most of the pork I grew up on was either Shake N Baked (for real – look at the ingredient list on that one!), or barbecued.
I had settled on doing something barbecued (comfort zone), when my husband encouraged me to try something new. I told him I didn't want to mess up such a great piece of meat and he kept encouraging me to try something different!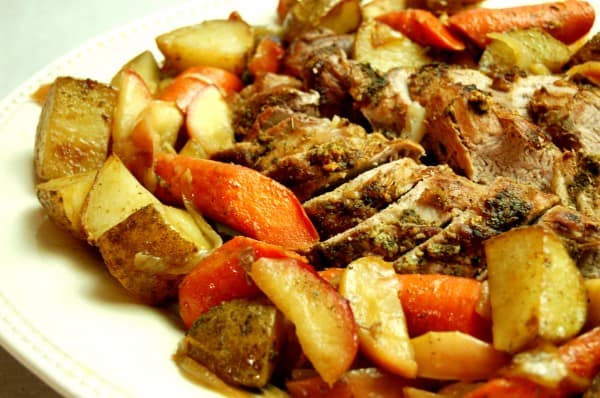 I'm so glad he did!
Here is what I came up with! Change up the root veggies to what you have lying around. And since I grew up on pork chops and applesauce, I figured roasting some apple slices alongside might just work – and it *so* did! If for some reason your family doesn't enjoy the addition of apples…I might suggest an apple crisp for dessert. 😉

Herb Crusted Pork Tenderloin With Roasted Root Veggies & Apples
Author:
Renee - www.naturalfertilityandwellness.com
Ingredients
2-3 lbs pastured pork tenderloin
4-5 carrots, cut to serve
4-5 potatoes, cut to serve
4-5 small apples, cut to serve
½ large onion, sliced long
3 cloves garlic, minced
2-ish TB all-purpose season or herbs de province
1-2 cups white wine for the bottom of the pan
Sea salt/pepper to taste
Instructions
Rinse and pat dry your tenderloin.
In a large skillet or electric fry pan, melt 3-4 TB butter, coconut oil, or lard.
Saute the carrots and potatoes with a couple pinches of sea salt for about 10 minutes. Transfer them to your roasting pan.
Saute the apples and onions with a couple pinches of season for about 5-7 minutes. Transfer them to your roasting pan.
Add more butter to your skillet or pan and sear all sides of the pork tenderloin. About 2-3 minutes on each side – you are looking for a nice brown sear but it won't be cooked all the way through.
Lay the seared pork on top of the veggies in the pan and pour the drippings from your skillet over the meat.
Pour the wine into the bottom of the pan, smear the garlic on the pork, and sprinkle the seasonings over the veggies and meat. Be generous with the season on the pork so it will crust.
Roast at 425 degrees for 20 minutes without a lid.
Let the meat rest 5-7 minutes before transferring to a cutting board to slice.
Serve the pork medallions with the veggies and apples and drizzle the wine sauce over top.
Kitchen Tips:
This is really not as fussy as it looks – I was cleaning up, changing diapers, etc while things were sautéing and searing. And then it was into the oven – and really everything was all in one pan!
Read THIS about why pastured pork is superior to conventionally raised pork. If you are unsure of where to find a good source, try asking around at your farmer's markets, or find a local WAPF chapter near you – they will be happy point you in the right direction!
I used my large electric skillet for sautéing and searing – plenty of room!
I used a roasting pan with a lid for the roasting, but nice enamel dutch oven would work too.
Let me know how it turns out if you try it!