Hearty Loaded Potato Soup
A wonderfully warm soup, made with wholesome ingredients, seems to fit the bill in January. If you're from a warmer climate – well lucky you! For the rest of us it can get downright freezing (single digit temps here for most of the week!) and a hot soup warms you to your core. A hearty bowl of loaded potato soup will warm you up and satisfy even the pickiest of tastebuds.
This week we've seen temperatures below zero at night and not much warmer during the day! The snow has piled up in the yard and on the deck, and going outside for even a few minutes can chill you to the bone. The other day I was out running errands and by the time I got home, I just couldn't warm up, so I put on a pot of soup for dinner.
When using wholesome ingredients, this will nourish your family and keep them asking for more. Even my non soup lovers gobble this up and ask for more!
Basically this soup is the bomb.
It's even a great one to freeze for later. I routinely double the recipe and save half for later as it makes for easy lunches for Todd and a quick dinner when we've been busy.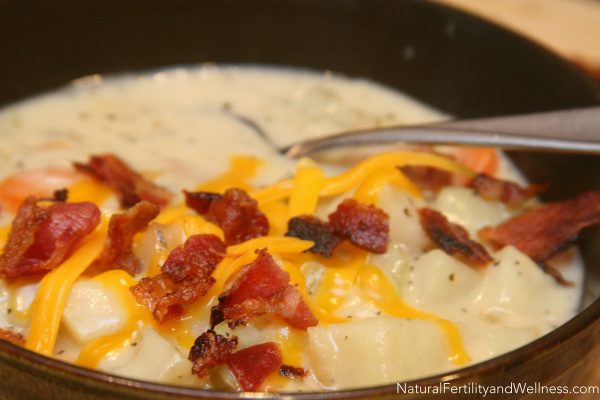 Loaded Potato Soup
Hearty Potato Soup
Ingredients
6 medium potatoes, cubed (about 4-5 cups)
1 large onion, chopped
2-4 cloves of garlic (use to taste)
1½ cups sliced carrots
1½ cups sliced celery
3 cups chicken broth
1 teaspoon dried basil
1 teaspoon salt (more to taste)
½ teaspoon pepper
1 cup cream
8 strips bacon, cooked and chopped into small pieces
¼ cup organic corn starch or arrowroot flour
optional: shredded sharp cheddar
Instructions
Place all vegetables and broth into a large saucepan and cook over medium-low heat until vegetables are soft, about 20-25 minutes.
Stir together the corn starch or arrowroot flour and the cream together and slowly pour the soup. (I prefer the texture of corn starch the best)
Cover and let simmer on low for 10-15 minutes.
Add in half the bacon, stir.
Serve topped with bacon and cheese
Notes
You can also make this dairy free, yet creamy! Just add about a half a head of cauliflower in with the vegetables and use an immersion blender to blend about half of the veggies once cooked. This offers a wonderful "creaminess", yet also leaves the heartiness from the chopped veggies. And of course, you'll have to skip the cheese.
This soup is great served with a salad and a nice crusty bread or
croutons
!