Mmmm, brownies.
Everyone always looks for a bit of "healthy" baking. The problem is, most of us just try and substitute whole wheat flour for the white flour, which brings a bunch of new problems into play. One being, as a society, we eat way to many grains.
Soaked or unsoaked, too many grains just aren't good for us. Our bodies were just not made to ingest so many of them! And going gluten-free is definitely a step away from our over hybridized wheat, but the problem still remains since we then just eat gluten free grains and more often than not – starches.
And don't even get me started on how much refined sugar we consume.
To tell you the truth, I don't bake very often anymore.
Don't get me wrong, I love to bake. It brings back wonderful memories of my childhood. But I also know what it does to my body! So I rarely ever bake sweets and even limit my baking of muffins to every couple of weeks or so. But when I saw a recipe for no flour brownies that I could convert so it was even healthier, I knew I had to give it a try!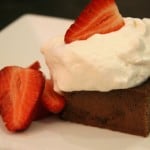 Print Recipe
Healthy, Grain Free Brownies
Ingredients
1 3/4

cups

black beans

or 1 can of no salt added – you can find BPA free canned beans at Tropical Traditions

1/3

cup

melted coconut oil

or melted butter

1/4

cup

cocoa powder

1/8

teaspoon

salt

2

teaspoons

vanilla extract

1/2

cup

honey

or other equivalent sweetener

3

lightly beaten eggs

1/2

cup

chopped up bittersweet chocolate

or semi-sweet chips if you don't mind the added refined sugar in them

1/3

cup

finely chopped walnuts -optional
Instructions
Preheat oven to 350°. Grease an 8×8 pan.

Place all but the final 3 ingredients (eggs, chopped up chocolate and walnuts) into a blender or food processor and blend until smooth.

Fold in the remaining ingredients.

Pour into the pan and bake for about 30 minutes.

Let cool – the texture actually changes as they cool off, getting more "fudgy".
Notes
*Other optional ingredients I've tried – 1/4 cup crispy almonds and a handful of spinach. Both work wonderfully.
I was really surprised at how good these were! The texture was smoother than a brownie made with flour would be, and because I used bittersweet chocolate, they weren't as sweet as what we would normally be used to. My husband was none the wiser about these until I told him what was in them, and we all enjoyed a sweet treat! I will definitely be making them again once my personal "30 Days of no Sugar" is over. (and yes, I know I am allowing myself honey, but these are just too sweet and decadent to help me get rid of my cravings for sweets!)
I would totally recommend you try these! They are full of good, real foods.
And if you don't think that Black Bean Brownies are up your alley, you can try out the Chocolate Mousse Cake. It's also grain free and includes healthy ingredients!
Wanting to eat healthy foods and find better alternatives for desserts is a wonderful way to keep your body functioning properly and keep your immune system strong! If you're looking to cut down on the consumption of sugar in your diet and learn the in's and out's of natural sugars, join me on the Sugar Detox Challenge!