The following is the story of one woman's ectopic pregnancy and steps she took to heal her body after her surgery.
In March of 2015 I began to experience stomach pain. Intense stomach pain. It had me plastered to my heating pad, covered in essential oils, and, after doing my best to avoid it, it even had my stubborn self turning to ibuprofen. The pain was terrible. I had to double over or lay flat on my belly to get through the fierce and fiery pain that surpassed labor contractions. But as serious and painful as it was, I took no action and thought little of it.
Before the agony took over my abdomen, I had been experiencing a familiar cramping in my cervix. This had me convinced that I was again dealing with old cervical problems from 5 years before. My cycle was overdue too — just like last month — so clearly I was just experiencing the hellacious combination of a sufferable cervix that had joined forces with an agitated uterus. The level of pain made it clear that I absolutely needed to see a medical professional, but that was something I needed to put on hold. My husband had to leave town for work come Monday morning, and there was no way I was going to give him cause to worry. Surely things would get easier two or three days into my period. Besides, my tough and prideful self had made it through three births with zero pain relief. I was sure I could deal with it until my husband got back. Then we could go from there.
The morning my husband left town for work was when I started what I believed to be my cycle. You could say that it was "out for blood" (couldn't pass up the pun!). The bleeding was heavier than anything I'd ever experienced and the cramping was torture. I wanted to do nothing but lie in bed, but I pushed myself up so that I could see my husband off without giving him any reason to worry. Once he was on the road I returned to bed and spent the next two days there. I ate ibuprofen around the clock to avoid feeling any pain. By day three I left the bottle untouched so I could see if my "period pains" had dropped as anticipated.
I was right. The pain was virtually all gone now and everything felt fine. Yes, I felt a little weak and could still sense an odd swelling in my upper abdomen (bleeding from my ruptured tube). Sometimes I would get intense pains around my shoulders and clavicle when I would breathe in too (pressure on my lungs and diaphragm from the blood collecting within me). My "menstrual blood" had also changed from it's normal dark, thick and brownish-red to a watery blood-red. I knew that something wasn't right, but I was sure it must be cervical cancer in development. I couldn't do anything about it right now and it wasn't pressing with the pain being gone, so I turned my attention away from the strange pains and sensations within my body.
Two days later it was Friday evening and I was wrapping up dinner. That was when the pain came back. I immediately leaped for my bottle of ibuprofen, but it did nothing. I tried taking more only to have it fire back with even more ferocity. I ended up crawling to the bathroom so I could hide myself from my children where the pain hit a frightening peak. I became so overwhelmed by pain and dizziness that I nearly passed out while sitting on the toilet with my head between my legs. It took everything in me to keep breathing and push through a moment that had me believing I was living my last minutes of life; but I did it. As soon as I had myself collected and the cramps had calmed down, I crawled out of the bathroom onto the couch. I called my friend to tell her she needed to come over asap. Then I called my husband to confess everything I had been keeping from him.
The pain went to a whole new level that night, but it came in waves that allowed me to stick to waiting for the clinic to open at 8am so I could avoid the outrageous costs of a trip to the ER (the hell from 4-5am would have broken my stubborn determination had my ride been there). At 8am I had family drive me over to a clinic where I explained my story and theory only to be told, to my complete shock, that I was pregnant.
Pregnant.
They told me I was likely miscarrying or possibly experiencing an ectopic pregnancy, but because internal bleeding was involved they needed to refer me to the ER to determine the exact cause. I couldn't believe I was pregnant. I'd had a feeling about this two months before, but the test came out negative. And I'd bled the last two months. My cycle had been late, but I had still bled. I hadn't even considered the idea of pregnancy or miscarriage.
I was stunned. But while I was at a loss of thought, I was able to see this as a chance to see my midwife instead of taking a trip to the ER. It was a Saturday, but she was more than happy to see what was going on. She sent me in for a blood test to determine HcG levels and told me she'd call as soon as the results came back. Two hours later she let me know that labs were back and HcG levels warranted an ultrasound just to make sure that everything was okay. So we agreed on meeting with the clinic doctor in two hours and I laid my exhausted body down for a very rare nap to pass the time. I drifted off to sleep with hope and relief. Everything was going to be okay.
I felt very weak and a bit dizzy walking into the clinic, and I was incredibly pale, but my walk was infused with optimism. The pain was back down to a 5 out of 10 so I was feeling much better. And now I had my wonderful midwife to help me figure things out, so things were looking up fast.
I was sure I must just be experiencing the pains of miscarriage or past cervical issues exaggerated by pregnancy. When the doctor started the ultrasound, he quickly revealed an empty uterus. I knew to expect that though, so I wasn't so much surprised as I was relieved to have an explanation for a week of suffering. My anxiety took an immediate drop. But the doctor wanted to see more so he continued his scan and moved attention to my left fallopian tube. He explained everything with great detail. I listened and nodded without any worry, and wondered why he thought I needed to know so much.
I was ready to go home now.
Then he shifted the ultrasound over to my right fallopian tube where nothing was visible. I couldn't see anything, but I wasn't alarmed because I was thinking this was just a normal miscarriage. The doctor pointed out where my tube should be and told me it wasn't visible because it was hidden by a pool of blood and clots. The pregnancy had ended not by miscarriage, but by the rupture of my fallopian tube.
I needed surgery.
Now.
My midwife wheeled me over to the surgery center and I was getting a laparoscopy within an hour of my ultrasound. It happened so fast there wasn't time to think (a good thing given the circumstances). I was shocked and scared and completely heartbroken. I hadn't given my kids a goodbye worthy of being my last… And I hadn't seen my husband in a week! He took off for home as soon as daylight broke, but he still had another 60 miles between him and home. And I'd never gone through any sort of medical procedure before… How did I have to go through this alone and so suddenly?
It wasn't fair, and I wasn't ready for it.
I just wanted to break into tears and sob in protest. The tears began to well, but as they began to fill my eyes, I turned within to impart a little wisdom upon myself.
I had been given an answer to my problem, now we could do something about it and finally put an end to this misery. And I had my midwife with me. She knew me and understood my needs and values, so I could trust her to look out for my best interests. I imagined handing over my burden of worry over to her and told myself that now my only focus was on relaxing and getting through what was to come. So I turned to joking with my medical staff as I was poked, questioned, and drugged. As I was wheeled away and the weight of anesthesia began to bear down on me, I had complete acceptance of what was happening and trusted that everything was as it should be. Then there was nothing…
Awakening from surgery was like coming back to life. The drugs had my brain filled with a thick mental fog that had me feeling as though I was waking from a 10 year coma. I was in and out and barely capable of a clear and coherent thought, but it only took a second for me to realize that I was experiencing the worst nausea of my life. I made this clear to the nurse standing over me and as I again fell back out of consciousness, she injected something into my IV.
I came to again moments or minutes later without any nausea and managed to ask where my husband was before I drifted off again. The next time I opened my eyes I saw the nurse walking in with him. He immediately came over to hold me and we both exhaled a heavy emotional breath of release. We had to work with a hospital bed, monitors, and tubes, so that hug must have looked like an awkward situation, but it was the best embrace of my life. Being free of pain and knowing that I was alive and had my family waiting for me gave me a sense of peace and satisfaction that nothing else could ever compare to. All was well and nothing else mattered. I had everything I needed and everything I could ever ask for.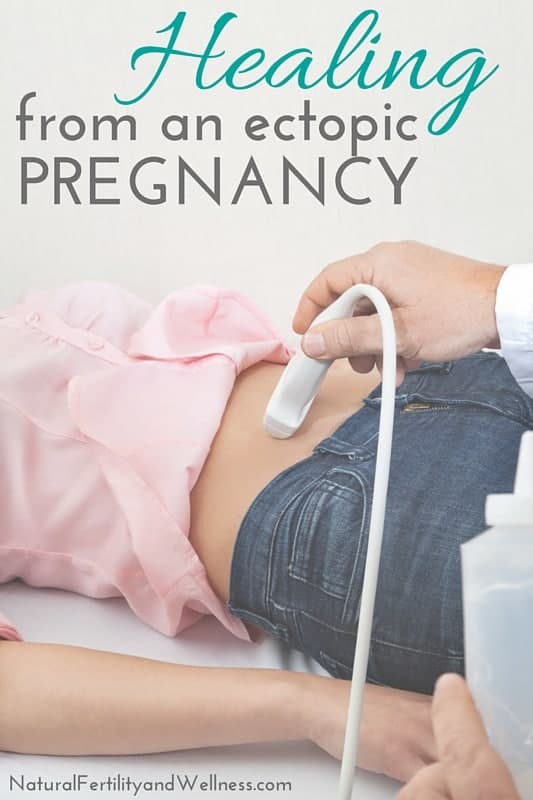 photocredit – Simple Photo on canva
Healing from an ectopic pregnancy
The relief of surviving something that had me so close to death had me more than happy to face whatever awaited me after surgery. But honestly, compared to the hell of a ruptured tube, I'd have to say that recovering from surgery was a piece of cake. There was swelling and pain at the three small incision sites from my laparoscopy, but it didn't even come close to the pain of ectopic pregnancy. In fact, it was welcome. I was back home three hours after surgery and feeling 100x better than just hours before. I used the pain meds that night and the following day, but I stopped taking them by day two. The relief from surgery was completely unnecessary now that my tube was removed.
Recovery happened quickly thanks to pain being taking out of the equation, but there were other factors that helped speed this along. I found some natural remedies very helpful in speeding up my healing, and I'm hopeful that other mothers can perk up as quickly as I was able to.
Wounds
Antibiotics are always the recommended treatment for healing, but I wanted to use a natural antibacterial that could also speed along nerve, skin, and cell repair. For me, this made essential oils a no-brainer.
Science is studying the antimicrobial effects of essential oils like lemongrass, peppermint, eucalyptus, and patchouli, but my personal favorite is lavender. It doesn't get as much attention with antibacterial studies, but it never fails me in reducing pain and inflammation. I used this along with helichrysum which has an excellent reputation as an anti-hematic antimicrobial that boosts cell repair. (available on Amazon)
Both essential oils are incredibly soothing and versatile and offer a powerful yet gentle healing remedy. Coupled with the healing properties of aloe and the soothing antibacterial qualities of coconut oil, my skin was kept soft, nourished, and clean. My incisions had turned into scars within a week.
Blood Loss
Women are already subject to anemia thanks to monthly blood flow, and the trauma of an event like ectopic pregnancy makes this risk even more serious. We need iron in order to produce the red blood cells that transport oxygen throughout our bodies. If supply doesn't align with demand then we fall prey to the fatigue and weakness of anemia.
Pregnancy in and of itself dilutes blood cell count, so the blood loss of surgery and a ruptured tube makes iron critical. I took to restoring my blood levels by eating the non-heme iron in pumpkin seeds and legumes, and even though spinach gets the spotlight for iron, my personal favorites didn't include Popeye's famous greens.
Instead, I favored hemp seed and blackstrap molasses for my daily iron intake. Not only are they both incredibly high in iron, but they're easily blended into a smoothie with dates or a banana. Their versatility and simplicity made them something that I easily squeeze in every day, and I loved having an excuse for a chocolate fix with a breakfast smoothie.
(note from Donielle – another option for those who need it is Floradix, available on Amazon)
Scars
My laparoscopic surgery required minimal cutting and prodding. Honestly, I have no idea how they managed to use just three tiny incisions to go into my body and drain, clean, and cut within my abdomen. My scar was nothing like the c-section scar my mom has from her surgery over twenty years ago.
But as small as the scars were, they weren't something I wanted to broadcast to the world. So I continued with my essential oil use by turning to frankincense, chamomile, and patchouli, as well as lavender and helichrysum. They are known to work some serious magic on the skin.
My fresh wounds were healed with the redness of fresh wounds gone in a week and my new scars were even fading away within the first month — old stretch marks diminishing along with them. They worked for me, and while each body will have different results, I often recommend mamas find a quality essential oils to help reduce scarring.
The one trick to it is staying consistent with usage. There are plenty of products you can buy that contain the ingredients I've mentioned, but a dab of essential oil plus aloe or coconut oil makes for an easy and powerful natural remedy. You can also up the ante by getting crafty with DIY scar healing treatments that include skin soothing products like tamanu oil.
Emotions
While I was able to quickly process the thoughts and feelings that came with my ectopic pregnancy, this kind of event has the potential to be an incredibly emotional experience. Every mama is going to have a different story, and some will be harder to tell.
It's our story though.
There's a reason we have our feelings, and we need to be able to allow ourselves to have them.
My own take on my experience was not one of loss. I saw my lost pregnancy as the loss not of a baby, but of a rapidly-dividing mass of cells. That little egg never got to where it needed to be to grow and develop. Because of this, I didn't see it as a baby. And even though it had the potential to become life, my feelings were that it wasn't meant to happen. I believed there was a reason this egg never made it to my uterus. Whether that was because of a genetic abnormality or that was because I was meant to have the realizations of my near-death experience, it's what I choose to believe. As insensitive and detached as that might sound, that was how I experienced it and I say there's nothing wrong with that.
The same goes for mothers who are feeling devastated and heartbroken at the loss of a baby. Our experience is our experience and ours alone. It's wonderful to find support and understanding in others, but sometimes our closest friends and family just can't grasp what we're experiencing. I believe that our emotions serve as a purpose, and I'm of the opinion that we should never feel bad for feeling the way we do.
Because of this, I would encourage mothers not to "get over it" but to understand what they're feeling and why. Once we get that, we can move forward in healing ourselves from the inside.
I thank all you ladies for taking the time to read my story and hear what I have to say. And a special thanks to Donielle for allowing me to share myself with such a wonderful and understanding audience. I wish you all the best ladies!
-Ash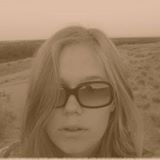 Ash Stevens is a mother, writer, and a wannabe shaman. She loves health, gardening, simplicity, culture, chocolate, and sarcasm. Find her on Twitter or Facebook and make a new friend!
If you too have had an ectopic pregnancy and are willing to share, please comment below with your experience for other women that may be in the midst of one. <3
Sources:
Avant Garden D

é

cor (2013).

Healing Plants 101. Retrieved from http://www.avantgardendecor.com/blog/healing-plants-101/