Homemade pie crust…those words make people cringe. I. have. been. there. Especially with gluten free pie crust!
I'm in the kitchen, covered with flour and a pile of dough that was supposed to be a crust. There is nothing more frustrating than disasters in the kitchen.
And, agh, a pie wasn't even worth my time. It's never been a favorite of mine. I am a dessert kind of girl but other than a mandatory slice of pumpkin pie at Thanksgiving, I could pass it up.
Until I had a pie crust made with butter….oh.my! Total bliss! I have never had a pie melt in the mouth like that.
It takes a bit of time and patience but once you get the process down, pie crust isn't so intimidating.

Gluten Free Pie Crust :recipe:
Gluten Free Pie Crust
Ingredients
2½ cups of gluten free flour mix
2 tbsp. of evaporated cane juice crystals (This is optional)
½ tsp. sea salt
2 sticks of COLD butter
6 tbsp. of very COLD water
Instructions
Mix salt, flour and sugar
Cut butter into flour until mixture is course.
Slowly add cold water, a little at a time until the dough pulls together
Sprinkle a bit of flour on your counter and your rolling pin.
Cut dough in half and roll out one crust at a time.
A few helpful hints: 
Make sure your butter and water are COLD! If they are room temperature, it's hard to get the right consistency and then it's easy to add too much water.
Add the water a bit at a time because the amount used is never quite the same, depending on the temperature and weather.
If your dough gets a bit too warm, put in the refrigerator to cool off a bit before rolling out.
When rolling, keep your pin covered in flour.
To pick the dough up after rolled out, gently roll it over your pin and then unroll over your pie plate.
You can use a food processor, it makes it easy to see when you've added enough water if you pour it in while the mixer is mixing because you can see it pull together. However, the pie crust will not be as flaky.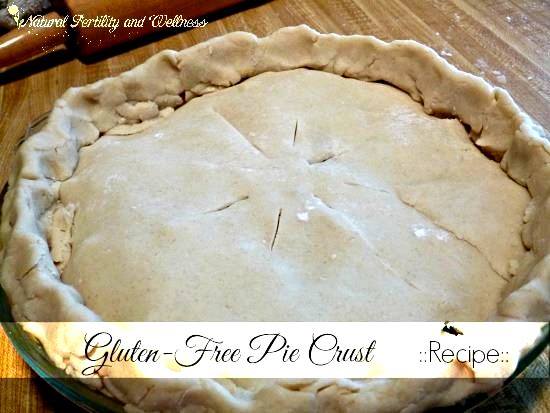 Once you have the pie crust on the plate and ready to go, place the pie in the refrigerator for about 30 minutes before baking. It makes for a more flaky crust. (This is a tip from my Grandma.)
While this may seem like a lot to remember, once you get going, I think you'll find it easy. And pie crust is forgiving!! I have had many a pies pieced together looking kind of funky…but, if your pie tastes good, believe me, nobody will care! 😉
What are your favorite tips for making a good pie crust?