One of my favorite parts of winter is the smell of baked goods in the oven. It can make the whole house smell comforting and warm. And the holidays are often times when our ovens are constantly filled with cookies, cakes, and pies. Soon though, you may want to replace one of those items with this gluten-free coffee cake!
I love bringing baked goods to gatherings and I enjoy making desserts that people love. (I also love that I can bake something and people are totally shocked that it is gluten-free)
This coffee cake recipe is one that was passed to me by a woman I used to work with, she brought it to all of our work parties. I doubt she got to bring any home because I know I was not the only one that ate more than one piece!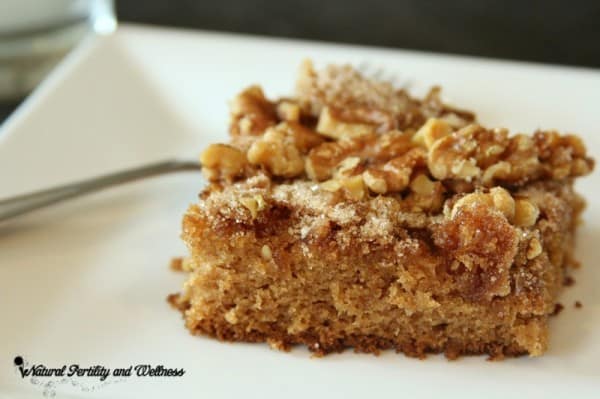 I've played with the recipe over the years as we moved from conventional baking to being gluten-free and it passes with flying colors. In fact, we have family come visit once a year and their request is always this cake, the last time they came I served the gluten-free version. Nobody noticed it was different.
Another thing about this cake that rocks is that it is an overnight cake. That's right. You throw it together the night before and then bake it in the morning. Who doesn't love waking up to the smell of cinnamon and eating a piece of yummy cake with a cup of coffee?? This is perfect for those mornings you want something special but know you won't have time when you get up to prepare something elaborate. 
I've used this for Thanksgiving morning when we have company. Everyone loves it. Plus, it totally frees me up to get the other food going. We all know how busy Thanksgiving or Christmas morning can be when it comes to food prep. This overnight gluten-free coffee cake is perfect to handle the breakfast crowd.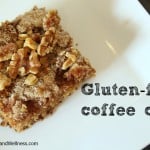 Print Recipe
Gluten-free coffee cake
Ingredients
2

cups

gluten-free flour mix

1

tsp

baking powder

1

tsp

baking soda

1

tsp

cinnamon

1/2

tsp

sea salt

2/3

cup

butter

1 1/2

cups

sugar

organic

2

eggs

1

cup

buttermilk

or full fat sour cream
Topping
1/2

cup

evaporated cane juice crystals

1

tsp

cinnamon

1

cup

walnuts

chopped
Instructions
Preheat oven to 350 degrees. Grease and flour a 9X13 pan.

Combine the ingredients for toppings and set aside.

Mix together flour, baking powder, baking soda, cinnamon, and salt in a large bowl.

In a separate large bowl cream butter and sugar together until fluffy, then add eggs until combined.

Add dry ingredients to butter mixture alternately with buttermilk, beating well after each addition.

Spread batter into pan and sprinkle topping mixture on.

Refrigerate 8 hours or overnight.

Bake at 350 for 50-60 minutes, serve warm.
Notes
You can also bake this immediately instead of refrigerating. 
If you don't have a favorite gluten-free mix, I have used a mix of brown rice flour, tapioca starch, and xantham gum and it works well for this recipe.
Also, in a pinch, if you don't have sour cream or buttermilk you can sour your own milk by adding a tablespoon of lemon juice to the milk. Mix and let sit for 10 minutes before adding to the recipe.
If you do not need to be gluten-free, you may easily use your favorite flour instead of gluten-free flour. 
There are a lot of ingredients but the cake comes together quickly. This is a big cake so it is perfect for gatherings! I promise everyone will love it. Serve with coffee and some fresh fruit salad and you have a wonderfully easy breakfast menu already laid out for you.
Holidays are a great time to start traditions, this is one of ours. I can easily see how this will continue on in our family.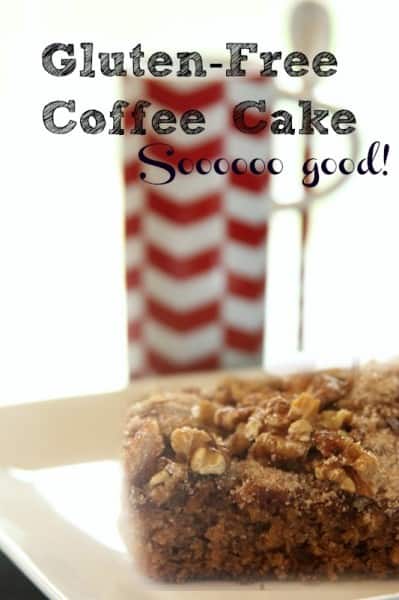 Note from Donielle.
I know. This coffee cake totally has sugar in it and I'm expecting the food police to come out in full force! I don't advocate eating this every day – or any other high sugar foods for that matter. But I also believe that we can learn to enjoy foods like this with our families on special occasions. My family and I have a tradition of baking cinnamon rolls every Christmas morning and it's something we look forward to all year.
As an added note, Jessica is a local friend of mine and she brought this over last month. We ate a piece of this gluten-free coffee cake and sipped coffee while we chatted about health and nutrition. It truly is delicious!