Last fall I started losing my hair and I finally began to see all of my other symptoms for what they really were – a clue that my thyroid wasn't in good shape.
It sounds so vain, because it finally took my hair for me to take notice, but I had ignored the four months of on and off spotting turned super heavy and irregular periods as well as the fatigue and brain fog. The unexplained 15 pounds I gained within two months that wouldn't come back off was starting to really bug me, and I knew something wasn't "right", but life and business was so full and I didn't have time to try to figure it all out.
Sure, it sucked but I think that after a while that I just got so used to feeling less than optimal.
Then my hair started to fall out…first I barely took notice, but after weeks of seeing a fistful of hair after I showered, I knew what was going on and I finally got scared enough to do something. My thyroid wasn't working well anymore and it needed help.
My body had finally gotten my attention (again!) and after three months, it's finally starting to turn around. My hair stopped falling out, and my period went from "Oh my gosh I'm bleeding out" back to normal and much more regular. (I'll list a few of the things I'm doing at the end of this article to fix heavy periods!)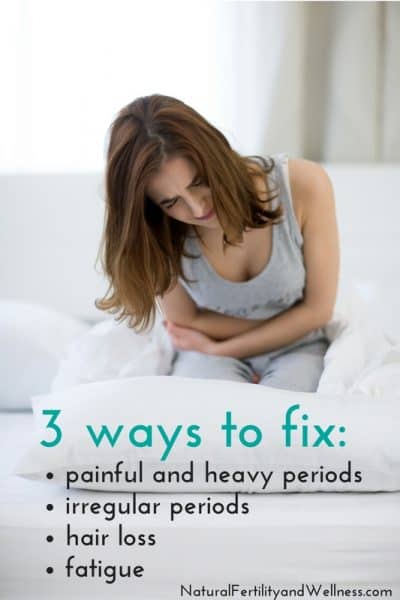 photo credit Dean Drobot
Let's talk about you first, because one in three women has some form of thyroid disease! If you deal with hormone balance in any way (PMS, irregular or missing periods, endo) or infertility I implore you to get your thyroid checked. After 8 years blogging about natural fertility I've come to see that thyroid dysfunction is one the most common root causes of infertility and other reproductive disorders.
Looking back, I can tell I've had symptoms since I was in my teens, but didn't realize it until I was 30 years old and had just miscarried.
Symptoms of thyroid dysfunction:
being cold all the time, especially hands and feet
low basal body temperature
infertility
irregular periods (or none at all)
PCOS
heavy periods
carpal tunnel syndrome
low libido
brain fog, poor memory
dry skin
anxiety
hair loss
depression
And even if you've had your thyroid checked and your doctor told you it's "normal", please know that many doctors don't run the right labs, and that there is a difference between a thyroid that is functioning "ok" and one that is "optimal".
You will feel and function your best when your thyroid levels are optimal for YOU.
There is also a natural thyroid documentary that releases March 1st called
The Thyroid Secret
. Dr. Izabella Wentz sent me an early copy of it in dvd form and it's been really informative! While I knew plenty of the information already from my research, it's helped to connect some dots. Plus, she's gathered together some of the top natural thyroid experts around, so not only is it good information, these experts have been helping thousands of women heal their bodies and get past thyroid problems for years. They know their stuff.
One of the biggest things it has done is helped my husband to see what this issue actually means for me. To have him hear that it's not just me – that other people are feeling the same way validates my complaints. Watching it together also informs the both of us how to go about treating it naturally, so that he can support me in this process. My husband is a video guy…so no matter what I send him to read, or how many books I buy on the subject, it just doesn't do any good. But these videos have been a great way for him to learn.
You can
sign up now
and get free access to the entire documentary as soon as it launches on March 1! And as a heads up make sure to schedule at least a few hours during the week it launches so that you have time to watch it.
Back to my personal story, the top three things I've done to help give my thyroid a boost (without any drastic changes…yet):
Cutting waaaay back on coffee. After almost two years in "survival mode", where coffee became a staple, I went to one 8oz cup or less per day and just this week cut it out completely. (5 days later and I'm feeling SO much better!)
Almost no sweets, though I still eat fruit and whole food carbohydrates. This has really helped my blood glucose levels as well. (I've been testing them at home)
Reducing stress. <—This one has been the hard one, because so much in life we can't change! But I've worked to declutter my home a bit more, find time to do things I really love, stop doing the things that weren't necessary, and reframe my thoughts about what I couldn't change. It's still a process, for sure, but each month I find myself less overwhelmed with life and this has had such a profound affect on my thyroid function!
I'm also busy watching the Thyroid Secret Documentary to get more ideas before I add in extra supplements and dietary changes. I've also ordered a thyroid and hormone test I'll be taking this weekend – I'll let you know how that goes!
Ok, enough of me. Go sign up and we'll  get back to optimal together!