Unfortunately Fertility Flower is no longer an option for those of us who want an online charting service. While it was my favorite, and I'm so sad to see it go, there are other options out there.
*In the heart of full disclosure, I was given a membership to Fertility Flower in order to facilitate this review. All opinions are my own and in no way swayed by product compensation*
Knowing your cycle and knowing your body are both key to pinpointing ovulation and also to diagnosing any issues you may be having with your fertility. I've spent a fair amount of time trying to figure out this whole charting thing, and the one thing I've found is that I need a program to tell me what's going on. Filling out the charts at home was less than successful for me. And as someone trying to figure out exactly what her body is doing right now to help balance out hormones, I've recently started charting again after an almost 3 year hiatus.
I'm really glad I found the recently launched website, Fertility Flower. The basic membership is free, the premium membership just $40.00 per year!
Now, I'm really gonna sound girly here for a second, but the one thing that drew me in was that "it's pretty". What can I say? I want my space online to look good, whether it's one I own or just one I use.
FertilityFlower.com differs from the standard terrain of fertility charting in a few significant ways, starting with the design of the website. I sought the help of Truro-based PensandPencilsandPens to bring some edginess and creativity to the visual aspects of the project. – Kimberly of Fertility Flower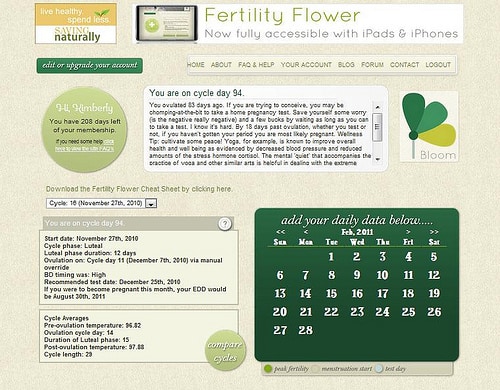 I also don't always remember to chart my temperature each morning, or wake up at the same time each day, so I really like how they show both the temps AND the cervical fluid changes on the same graph. It really helps to see exactly how the two relate to each other and allows you to see your most fertile times by changes in fluid consistency.
As you can see below, the yellow dots are the temperature readings, the blue bars the cervical fluid changes. You also have the ability to compare your charts from month to month on an overlay graph. This can show you any changes in your cycle (especially if you're trying to improve in one area or another) as well as show you patterns in your cycle.
The website is flexible enough to accommodate women throughout their reproductive years. There are three sections, which we call 'Seed', 'Sprout' and 'Bloom', names which are aligned with the garden motif that runs throughout the website.

'Seed' clients are those who have no children and are not currently pregnant.
'Sprout' clients are those who are pregnant with their first child.
'Bloom' clients are women with children.

The idea behind the distinction is that, for example, the experience of pregnancy is very different for the first time mom than it is for someone who's already gone through a pregnancy and birth, such that our Sprout clients have more in common with each other than they might have with Bloom clients, who may be pregnant with their 2nd, 3rd and 4th child…etc. Similarly, the experience of trying to conceive is different when the client hasn't had a child – many of our Seed clients have experienced miscarriage and thus worry that they might never become pregnant whereas our Bloom clients (while they may also worry about infertility) know that they are able to conceive and carry a child to term.And while these are apparently three distinct sections, they actually flow together seamlessly. Seed members who become pregnant automatically move into the Sprout section and after giving birth, into Bloom. -Kimberly
I think though, that beyond design, and beyond functionality, the one thing that stood out was the over and above, comprehensive  symptom checker. Not only do you mark down your cycle symptoms, but also your overall health and well being, giving you a holistic view of your body.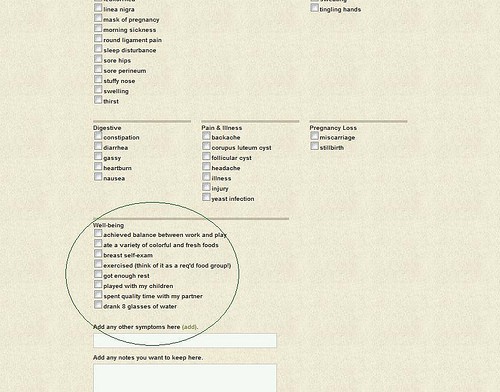 It covers everything from ovulation symptoms to your emotional, PMS, pregnancy, dermatologic, autonomic, digestive, illness, loss, and overall well-being symptoms as well. I've never seen a charting service this concerned about a woman's overall health, and this carries over to how they treat pregnancy loss and stillbirths as well; the members receive a message of condolence as well as resources for more information on pregnancy loss and assistance (recommendations for websites on loss, etc).
The personalization of this site and the caring of the owner behind it make me feel even better about giving this charting service a glowing recommendation.