Changing what you eat has a profound impact on the amount and severity of symptoms you'll experience due to endometriosis! I've had endo for over 15 years and have pretty much tried every treatment available, from working with doctors to researching natural remedies on my own. Take it from me, what you put on your plate will make a difference. I know it can be difficult to figure out what to eat so I put together a basic three-day endometriosis diet menu plan.
These are some of the foods I typically eat and I'll also share why I chose them.
Endometriosis diet menu plan

Three breakfast ideas
Seeds and nuts yogurt bowl
My favorite breakfast is still fruit salad with a sprinkle of nuts, pre-soaked quinoa or buckwheat, cacao nibs, coconut flakes, and a big spoonful of coconut yogurt. I love this one so much because it hydrates my body after a good nights sleep and also helps me feel less heavy and bloated than some of the other breakfasts. I find this to be a very effective way to also get lots of anti-oxidants and phytonutrients in one hit. My favorite fruit is still blueberries with banana, but you can do any combination. You can definitely turn this into a smoothie and add your favorite powdered supplements.
Quinoa porridge
The next option for breakfast would be a quinoa based breakfast. This is particularly good on those wintery mornings. The key is to pre-soak the quinoa in water with a splash of lemon juice to make sure it doesn't aggravate the digestive tract. Quinoa contains sufactants which is what gives it that soapy look when you rinse it. To avoid ingesting that – soak and rinse well the next morning. I then like to make an apple, cinnamon and raisin combination. The trick is to use coconut milk to reheat the quinoa and then add the remaining ingredients just until heated through. You could also steam the apples to make them nice and soft.
Having almost finished my nutrition course at college, I can't tell you how often it has been stressed to simply eat plenty of fruits and vegetables to optimize health. So, why not add them in for breakfast? One of my favorite recipes for breakfast would have to be a Spanish combo, which includes mushrooms, spinach, olives, courgettes and onions. Add a sprinkle of Spanish smoked paprika to this and it just lifts the whole dish! It is warming, filling and won't leave you feeling stodgy! Pair this with scrambled eggs (if tolerated) or quality sausage.
Three lunch ideas
Lunch is a wonderful opportunity to really load up on those dark leafy greens and fill up on nourishing your body with vegetables!
Leftover salads
My favorite way to enjoy lunches these days is to pack them into a rubber sealed jar. There is something extra tasty about seeing layers of color and it also makes it so much easier to transport! My favorite lunches are generally a combination of last nights dinner and a bunch of other salad ingredients combined in layers. Here is a typical example:
Layer of dark leafy greens from the garden
Roasted vegetables from the night before
Pre-soaked and well rinsed wakame seaweed
Sprinkle of sesame seeds
Sprinkle of sprouts
Sometimes I might add a few tablespoons of pre-cooked rice, quinoa or buckwheat
Simple sandwiches
Another way to enjoy lunches is to make a make-shift sandwich. Instead of using bread, we use a big collard leaf to hold all the bits inside. Think of a typical sandwich you normally make and fill the collard wrap up with delicious goodies! You could combine the following:
Chicken pieces (from last nights dinner) or a tin of tuna/salmon
Cucumber pieces
Tomatoes
Green lettuce
Sprinkle of goats cheese
Avocado
Fresh herbs like marjoram or oregano
Soup
A great way to get super nourishing things into your body is in liquid form! Your body doesn't have to break anything down and you can deliver everything straight into the body! This is why I often opt for soups and they don't have to be limited to winter! You can even make cold soups for summer and load them up with loads of nourishment.
One of the most deliciously warming soups for winter would be a pumpkin spice soup. You can use coconut milk to help supply adequate amounts of good fats for your body to be able to make enough good hormones. You can then add spices like cloves, nutmeg, cardamon and star anise. These contain amounts of anti-bacterial and anti-inflammatory properties but also really boost the immune system. According to Ayurvedic medicine, they are also very warming which is generally something most women with endometriosis crave.
As a cold soup option, which really could be a called a smoothie, you can blend up a frozen banana, pre-cooked beetroot, almond milk, cocoa powder and frozen blueberries. Top this with something crunchy like cocao nibs, nuts, seeds and coconut flakes. It sounds a little weird but it is super tasty and beet roots are of course fabulous for helping support the liver. Our liver does all that work in detoxing and flushing out excess hormones, so we want to help it as much as we can!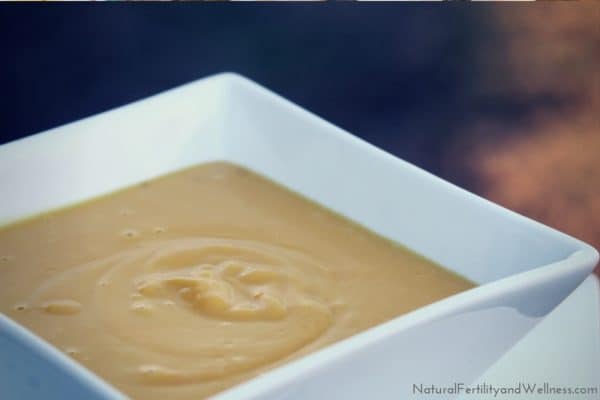 Three dinner ideas
Simple roasted veggies
To be honest, my go-to for dinner tends to be roasted vegetables with a side of greens and broccoli. It sounds so simple but perhaps that is why I like it. It offers me a variety of different nutrients from different vegetables, it is easy and I don't have to be super creative in thinking of what to eat for dinner. I will often add in nuts or seeds or a topping of goats cheese. Onions roasted are also super good for us and super delicious as they turn sweet when roasted! The bed of greens is of course the important bit here as that is where we get all that good folate and plenty of other valuable nutrients. I grow my own because I want this stuff super fresh!
Veggie "pies"
I am a great fan of making versions of roasted "pies" at the moment. We will make up a mixture of fish, vegetables and particularly green peas and put them in a little Spanish dish. We then make up some mashed sweet potato and this becomes the "pie" topping. Put the whole thing in the oven for about 20 minutes and you have the most delicious "pie" ever! You can also make one of these up, freeze it, and then reheat when needed.
Asian influence
When it comes to dinner I tend to prefer Asian influenced dishes. They tend to be lighter and also loaded with lots of spices and herbs. My favorite dish at the moment is fish with a cabbage salad. The cabbage salad includes cut up apples, roasted peanuts, loads of coriander, mint and topped with sesame oil, lime juice, and honey. It is super delicious and feels so incredibly light, yet filling at the same time!
So, the goal with eating is not about simply taste and getting full but rather it is about truly nourishing the body and the more variety we can get from different foods, the more we will reach this goal. Managing endometriosis through diet is not about "being strict" or avoiding certain foods alone. It is about providing nourishment and supporting our body and then it will reward us with super health. We provide the environment for healing and the body does the work. It is smarter than we could ever imagine.
Many of the photos used in this post are from my recipe book Eat Endo Happy.