One of the biggest problems with being in the kitchen more often than not, is the wear and tear I see on my hands. I also have a little one in diapers, so that means extra hand washing each day. Now in the summer when I couple all of that with gardening and food preservation, my hands need serious help.
A little while ago I actually sought out Renee from Hard Lotion.com to see if her lotion bars could help me out.
I wanted something for my skin that was non-toxic, easy to use, and worked. It had to be something I could recommend to my readers without hesitation.
Her lotion bars are all handmade (a huge plus in my book!) and include only three ingredients. But would they work?
Once I received them I was a bit hesitant as to how they would work on my hands, wondering how I was to get it over and around my fingers. Renee sent me both a full size bar (2oz) as well as a pocket size bar (.75oz) I first used it on my poor cracked heels and loved how they felt after a couple days. I actually went from limping, to walking normally by the end of the week. I think the reason it helped so much was that I could apply it a bit thicker at night and it could really soak in and soften.
Now using it on my hands was a little tricky. It does soften when it warms up against the skin and once I got my own 'grooves' into the bar, it was fairly easy to apply. It didn't fee greasy at all and really helped to rehydrate my poor dry hands!
I was also able to try out her lip balm as Katie from Kitchen Stewardship gifted me a tube awhile back!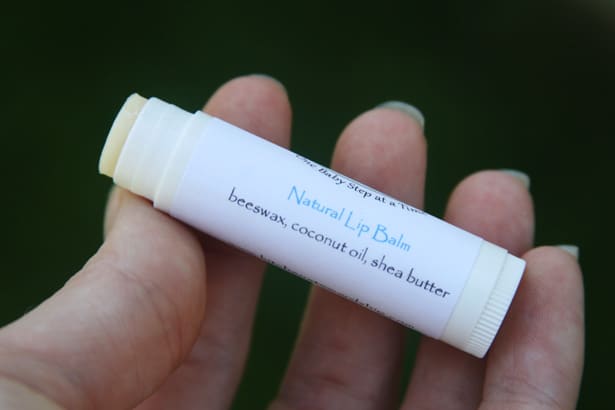 Again, only three ingredients.
The lip balm feels great and is a staple in my purse.
One of the things that really attracted me to the Hard Lotion website was the fact that Renee not only sells great products on her website, but she also has two videos to show you how to make your own lotion bars and lip balms. While poking around there today I saw she also sells and Au Chocolat lotion bar which "combines cocoa butter, coconut oil and beeswax to produce a lotion with a slight natural chocolate scent."
Chocolate lotion? Sign me up.
I'm also thinking about getting the Bug Block bar that includes the essential oils of citronella, cedarwood, and lavender. We've got major mosquito around here and I could use any natural help that I can get!
Best of all I can honestly recommend the product. It's something I use daily myself.
If you're looking for a nice all natural lotion, or interested in making your own, check out the MadeOn Hard Lotion website as well as read her blog.