Today I joined in over at Kitchen Stewardship's Spring Cleaning: Get the Junk Out Carnival, and guest posted on sugar. I wrote a very honest (and sometimes TMI) piece on my personal story with sugar and gave a good 5 reasons why we want to rid our diets of sugar. So go take a read for parts one and two and then come back here for part three;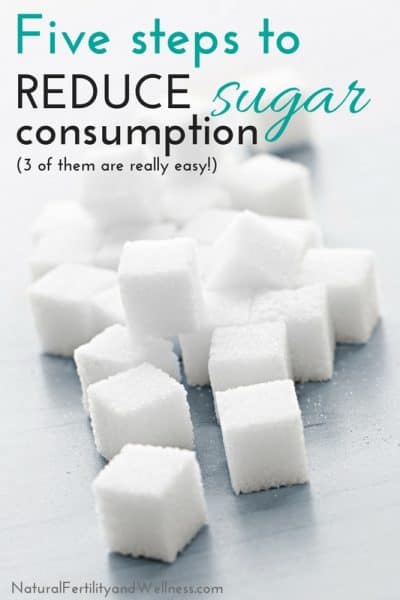 photo credit – elena photos
Part Three: Take Action!
With books upon books written on the subject, and a mass of articles online as well, the question still stands for many folks – how do you really get rid of sugar in your diet? For some of us it will be easier than others depending on how far along we are in our journey to real foods, so I'll break it up a bit for you.
Baby Step to reduce sugar consumption
1. When first trying to cut sugar out of your diet, it's essential that you start reading the labels on the food you buy! High fructose corn syrup is the first thing that needs to go. Get in the habit of this first.
2. Stop buying foods with added sugar that aren't meant to be sweet. Things like taco seasoning packets, dressings, and store bought sauces can have sugar in them and they are so easy to make at home. (cheaper too!)
3. Start cutting back on your consumption of sweets. Limit not only the amounts you eat, but the days you eat them. Try to have at least a few days each week where you don't consume sweets.
Take it Up a Notch
4. Switch to natural sugars in recipes. Use sucanat or rapadura (one of the least refined sugars), maple syrup, and honey. Yes, they are more expensive, but the great thing is, it'll give you incentive to use them less!
And choose to limit desserts to once a week, making them an occasional indulgence, not an everyday treat.
Grain free brownies sweetened with honey are delicious
Apple Grunt is a wonderful 'comfort' dessert
And caramel corn makes a lovely sweet and crunchy snack!
A good sugar to start out with if you're used to only refined white sugar is going to be organic whole cane sugar. It's an easy swap (1:1 ratio) and the taste and textures will be about the same. When switching over to more natural sugars, sometimes it's easiest to replace just some of the sugar at a time. If your recipe calls for 1 cup try using 3/4 cup of your normal sugar and 1/4 whole cane sugar and increasing the ratio each time you make it. For me, this seemed to help my family make the conversion a bit easier!
Put Your Big Girl Panties On!
5. If you're suffering from medical issues and even things that seem like common annoyances (eczema, headaches, yeast overgrowth, chronic colds/coughs, lowered immune system, etc.) or you've been doing the natural sugar thing for some time and want to kick it up a notch, it may be time to cut sugar out of your life!
Personally, I find that I have to go cold turkey in order for me to get a handle on over coming sugar. The gradual cutback cause me to crave sweets more and I end up over indulging. So my advice would be to clean out your cabinets, anything you know you shouldn't eat, and stay away from buying anymore. The first few days are tough as your body works on the physical cravings. And then in the days weeks months after, you'll have to struggle with the emotional attachment to sugar which is the hardest thing to break.
If you need extra help in cutting your consumption of added sugar, you can grab my book The Sugar Detox Challenge and I'll walk you through an 8 week process to get rid of it from your meals and snacks!