You've forgotten to set the timer and come back to the stove to find dark black cement at the bottom of your pan. Sometimes so bad you contemplate throwing the thing away – but never fear, there are ways to clean up burned on food out of a stainless steel pan! I wish I could say I didn't have first hand experience with this, yet being in the kitchen so often, I'm bound to make a few mistakes.
For awhile this past fall I was a bit more forgetful than normal. I'm going to blame it on the adrenals…. But alas, I burnt my lunch twice in the matter of only one week. One day in particular I was re-heating soup, went downstairs and completely forgot I left it on the stove. An hour (or so) later I was just thankful I didn't start a fire!
Luckily I had learned just a couple of days before how to remove such a mess.
Placing just a few inches of water in the bottom of the pan and adding in a cup or so of vinegar helped to peel off this stuck on mess. Don't get me wrong – it's gonna take a bit of waiting, but it will come off! You bring it to a boil, turn off the flame and let it cool. Repeating as often as needed to remove the burnt cement.
*update – I've been cleaning burnt pans over the last few years this way. Unfortunately I still haven't learned to turn on the timer! Many times I simply bring the vinegar and water up to boil and let it sit overnight to clean in the morning. Save me a lot of elbow grease! Another reason I love stainless steel pots and pans is that I can use a nice metal spatula to assist in scraping it off – no worries about damaging any special coating.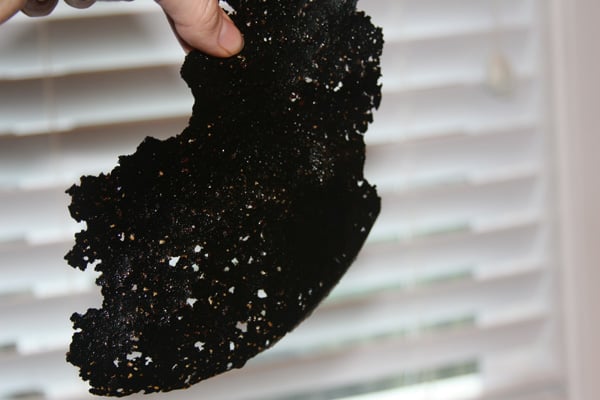 Now if someone can just tell me if my stainless steel pot that I started an actual fire in can be saved…