One of my favorite things about making homemade granola, or homemade granola bars, is that the flavors are so easy to change. This new version I've come up with gets the thumbs up from everyone in my household and makes a great snack when needed, can top yogurt, or even pair well in a bowl with milk.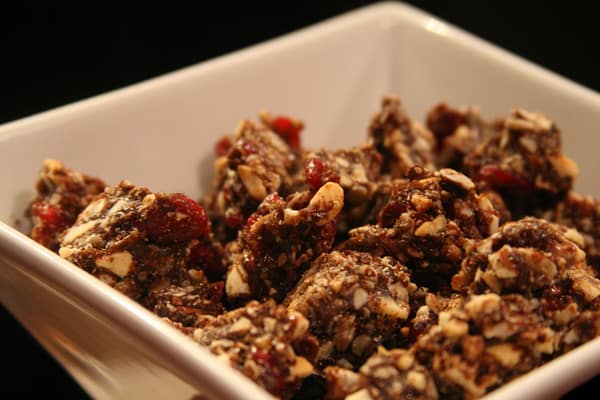 Print Recipe
Recipe: Chocolate Cranberry Nut Granola
Ingredients
1

cup

almonds

1.5

cups

sunflower seeds

1.5

cups

peanuts

1

cup

walnuts

for best nutrition, and ease in digestion, soak and dehydrate all nuts and seeds

3

Tbsp

cocoa or carob powder

1

Tbsp

dried coconut

1.5

cups

dried cranberries

4

Tbsp

butter

3/4

cup

honey

1

cup

sucanat

2

tsp

vanilla extract

1/2

tsp

salt
Instructions
Melt butter in a medium-sized saucepan and add in honey, sucanat, vanilla, and salt.

While the sugar mixture is simmering (the longer you boil, the harder the bars) chop all nuts and seeds in a food processor, leaving them in large chunks.

Add in cocoa and coconut.

Pulse until well combined.

Pour into a large bowl and stir in cranberries.

Once the sugar mixture has boiled to your liking (a few minutes for softer bars, a few minutes more for crunchy bars or loose granola) pour over the nuts and seeds.

Stir to combine.

For bars, press into a greased 9×13 pan, let cool , then cut.

For granola, increase the seeds and nuts by 1 cup, spread loosely over 2 large pans and allow to cool. Break and place into a storage container.

*The types of nuts used can also vary based on your own personal tastes as well as what you have in your cupboard!
Notes
This is quite a sweet snack, so consume in moderation and include more nuts and seeds to reduce the overall sweetness. (this works for the granola, not for the bars)