Over the last couple of years I've fallen out of habit charting my temperatures, and last month I got the kick in the pants I needed when Natural Cycles asked me to use their app and write about my experience with it.
I've gotten pretty good over the years at pinpointing ovulation with secondary symptoms and noticing cervical fluid, so I only tend to chart after ovulation when we are trying to conceive to see how long my luteal phase is and confirm ovulation. (In contrast, when we are avoiding pregnancy I chart my entire cycle.) So after my last pregnancy and then amenorrhea due to breastfeeding, I hadn't taken my temperature all that often, but when symptoms of fertility began to appear I knew it was time to start paying a lot more attention to what my body was doing.
Quick side-note – I prefer to avoid pregnancy while breastfeeding as I feel that my body may not be able to support both breastfeeding and pregnancy at the same time. This, of course, is a very personal decision based on one's own health and I'm not trying to make a blanket statement.
This app also allows for use when trying to conceive, but also has a mode for preventing. It's a simple click of a button and it will adjust the color coding on your calendar!
Midway through using Natural Cyles to get back into the groove of charting, they updated the app and many changes were quite welcome. I love many of the new changes!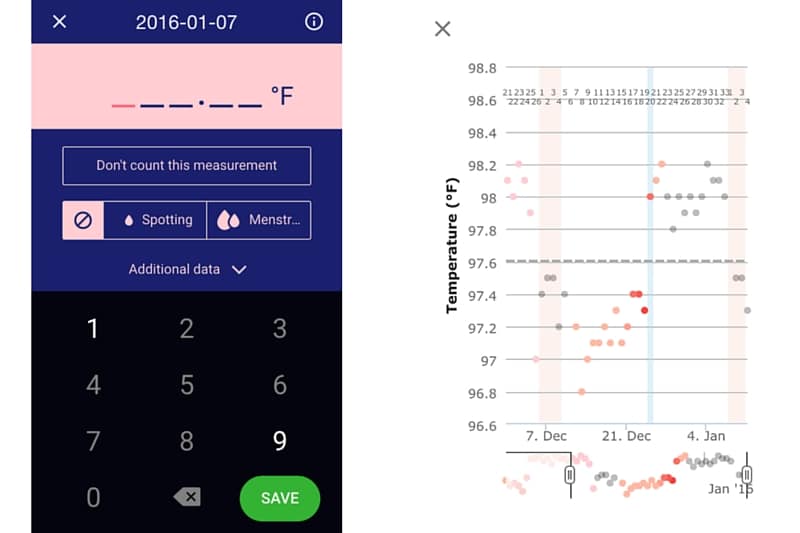 Entering my temperature each morning was super easy and the app was simple to use. I also loved the "Don't count this measurement" button! It came in handy over the holidays when I wanted to sleep in a bit longer. And the additional data arrow includes buttons to click for LH and pregnancy tests. The only thing I would have liked to see here would be the inclusion of the type of cervical fluid since I track that as well.
The app normally opens with your daily fertility status, but you can also click over and see the actual chart as well, which is great to see the cover line!
You can also easily see your chart on the calendar where it gives you color coded days to show when you were fertile/ovulated, and when you weren't. It also shows you a prediction of what may happen in the future based on your previous temperatures and menstruation patterns. Of course, this will become more accurate after a few cycles have been charted, but will continue to be a prediction...just giving you an idea of what may happen.
One aspect of this app that I really liked was the overview of the cycle averages, showing not only how long the average cycle was, but the average length for both the follicular and luteal phases as well. These averages also include my "normal" day of ovulation and the average temps for each part of the cycle.
3 things I learned while charting my cycles
1. My memory isn't as good as I think it is!
I often think I'll remember how many days it's been since I ovulated…and I'm always wrong unless I write it down. Same for trying to remember how many days of spotting, or how long menstruation lasted. Always. Wrong. So keeping track by quickly adding my temps on my phone each morning helps me look back and not only see patterns, but helps me see if the dietary and herbal changes I make are positively affecting my hormones as work on balance after pregnancy and while still nursing.
2. It's not all in my head
There are some days where I often feel that something is "off", or I don't feel well. When I look at my chart I can begin to see when in my cycle that certain symptoms appear, allowing me to research how to support that part of my cycle and alleviate problematic symptoms. Or to simply remember that certain parts of our cycle help us to be outgoing and energetic, while others cause us to crave quiet introspection.
3. It's not hard
We often make charting our fertility out to be harder than it really is. In this day and age, with apps like Natural Cycles, all we need to do is wake up at the same time each morning. Someone else does all the figuring it out for us!
I'll continue to set my alarm and take my temperature in the morning whenever I am able – the information such a simple thing can offer is both empowering and medically important! It's unfortunate that more women don't take advantage of the wisdom their bodies offer.
Once it becomes habit, you barely need to think about it!
If you'd like to learn more about your cycle and begin to chart YOUR temperature, you can get 40% off your 1-year subscription + a FREE basal thermometer when you click here.
*This post was sponsored by Natural Cycles. All opinions are my own.