Salads are a great way to consume a variety of nutrients, are easily changed, and can be quick to prepare. I personally find I feel much better when I get a good amount of fresh produce every day, yet salads can provide so much more when done right! Here are a few simple tips on making a healthier salad by adding plenty of nourishing foods.
1. A healthier salad needs a better base
Break out from the tired old iceberg lettuce salad base and expand into using romaine, green and red leaf lettuce, boston lettuce, romaine, endive, cabbage, arugula, chard, and dandelion greens.The darker the color, the more densely packed with nutrients and minerals. Each type of lettuce has its own flavor, complimenting different vegetables and dressing. I regularly use red and green leaf lettuce as well as romaine for their nice flavor.
2. Pick a Better Dressing
Store-bought dressings are most often made using poor quality fats like soy, corn, or canola. Learn to make your own lacto fermented salad dressing for an extra nutritional punch. Lacto-fermenting helps boost the beneficial bacterial count in your digestive system and helps with digestion and overall health. Even if you don't make them lacto-fermented, try your hand at mixing up your own so that you use only good fats and quality ingredients. Dressings are even a good place to slip in some raw, pastured egg yolks! I use them for a ranch dressing base, but one of my friends and readers also mentioned that she whisks them in to lots of different dressings.
And even if you don't have a lot of ingredients on hand, a simple mix of extra virgin olive oil and apple cider vinegar makes a simple dressing for a simple salad. One brand I can find regularly in stores that contains decent ingredients is Braggs (available on Amazon). Be wary of the dressings you can buy at health food stores as well – they may be organic but are often made with soybean oil.
3. Be colorful
On average, try to use at least three different colors of vegetables. In doing so you'll boost the variety of nutrients and anti-oxidants you're consuming. Grab some different colored peppers, or try adding different fruits, and change them up often. It's also important to choose darker colored veggies for extra nutrients.
4. Add protein
Protein is important, especially when you're a woman of childbearing age. You need the extra protein for proper development of the baby and to prevent certain pregnancy complications. Choose pastured hard-boiled eggs, a good quality cheese, beans (soaked and cooked), quinoa or rice (soaked and cooked), and healthy meats like grass-fed beef (available from Butcher Box if you don't have a local source), pastured chicken, and wild caught fish. You can also use chopped nuts or seeds to add in both crunch and protein.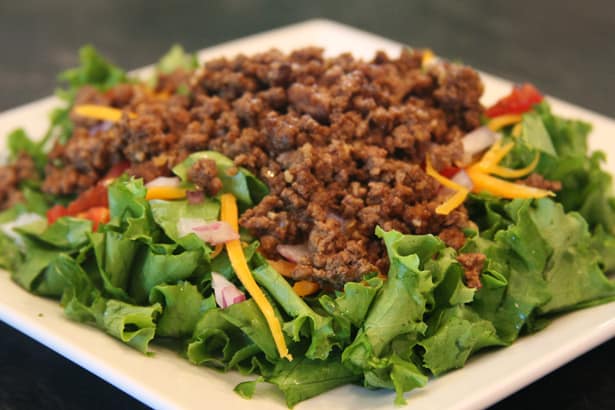 5. Prepare ahead of time
Taking 20 minutes to wash and chop your vegetables for the week makes it easier to prepare a quick salad for lunch or dinner when needed. I find that I can chop up a head of lettuce and keep it in the fridge (with a paper towel in the bowl) for almost a week. Each week I also take 10 minutes, chop vegetables, and place them in individual containers. And I make sure I chop them for "ease in eating", meaning I don't chop them into pieces that are too large. (ex. I find I prefer shredded carrots to chopped)
6. Use a healthy fat
Make sure that you add in some form of fat, whether it's from your protein addition or the dressing. You need the fat to help absorb all of the micro-nutrients in the vegetables.
Just a few simple changes and you'll be on your way to building a better salad! What are your tips for adding extra nutrients to a simple 'ol salad?