Every Christmas that I can ever remember involved peanut butter balls (also known as Buckeyes)! My mom would have an assembly line set up for my sister and me to help dip the frozen peanut butter balls, and despite the brightly frosted Christmas cookies that crowded the cookie plate on Christmas day, the chocolate peanut butter balls were my favorite from a very young age.
At the beginning of my real food journey, I played the strict card on holidays. And to be honest it was for good reason. I had many food allergies I was working through, and to blow all my hard work on one cookie would not have been worth it. If you are in a spot of really needing to avoid certain foods while you heal your gut, I promise you it is so worth skipping the treats for one year.
After a couple of years of skipping out on my holiday favorites despite having successfully worked through my gut issues, I decided there had to be a better way. Because really…the holidays are more than just about food, BUT it is enjoyable to have a once a year treat like a Christmas cookie or Buckeye! And think about it…your great-grandparents made Christmas goodies without the Crisco – it can be done with less processed ingredients.

I started playing around with how to bake in a more real food way, and as it turns out it really isn't that difficult to make some real food swaps for the really processed ingredients some of us grew up on.
I'm definitely not glorifying this as "health food"- sugar is still sugar. But if you are headed to a party or have a gathering set for your house, having an option like this is definitely better than most. And these are SO good!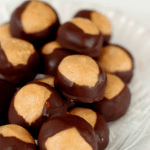 Print Recipe
Christmas Buckeyes
Ingredients
1

cup

peanut butter

¼

cup

butter

softened

1

tsp

sea salt

1

cup

powdered sugar

½

cup

white rice flour

1

chocolate chips

or chunks
Instructions
Combine everything but the chocolate in a medium mixing bowl using hand beaters.

Roll the peanut butter mixture into balls and place them on a Silpat or parchment paper lined baking sheet and freeze for one hour.

Use a double boiler method to melt the chocolate. (Or frankly, a microwave works fine – just do 10-second increments and stir in between until melted)

Use a toothpick to pick up the peanut butter balls and dip in the melted chocolate and then place the dipped peanut butter balls back on the Silpat lined baking sheet. If your chocolate begins to cool off too much and gets thick just melt it again.

Freeze the dipped buckeyes for an hour to set the chocolate.
Notes
if you use peanut butter that has more than just peanuts like salt, sugar, or oils added you will have to play around with the salt, sugar, and flour amounts for the right taste and consistency – it will still work – taste as you go along and you are looking for a stiff cookie dough consistency.
Variations - use regular flour instead of rice flour if you don't have it and don't need to be gluten-free.
So keep me posted if you try these out for your holiday parties!
Note from Donielle.
So. Do you call them Buckeyes? Or Peanut Butter Balls? 
When Renee said she wanted to do a recipe post for buckeyes I had to figure out what she meant! And peanut butter balls were always a favorite of mine as well. Except I'm pretty certain my mom added wax to her chocolate. Ewww! I'm definitely making these to bring to a Christmas Eve party. (as an added bonus, they are gluten-free.)