As summer comes to a close, it's time to look forward to fall and winter weather. Yup, I know, it feels like summer just started didn't it??  I really do love each season, but I could do with winter being a tiny bit shorter…or less cold….or at least less snow.
The transition time between summer and fall  is the time I start to look at what herbs, supplements, and oils I want on hand for the cold and flu season. I don't like to be caught off guard and like to be prepared with things to reduce cold and flu symptoms. (Nobody likes to be sick or running to the store when you are sick. Blah!)
But, my motto is, 'prevention is best' when it comes to just about any ailments. Besides looking at what I like to have around when we are sick, I like to look at what we need to help prevent us from being sick. Those range from herbs, supplements and oils when symptoms start, to things that I like to make part of our daily routine.
There are so many things you can do to help boost your immune system to help ward of those germs. Most of them are pretty easy to incorporate into your day! (I promise- because if it isn't easy, it doesn't happen at my home either!)
1. Keep your gut happy
80% of our immune system is in our gut so if your gut isn't up to par, your ability to fight illness will not be either! Cold and flu season is the time to buckle down and eat well. Cut out the foods you know bother you, back away from the Doritos (I know, I know!), and cut down on your sugar consumption.
Feeling like you're having trouble digesting? Take enzymes with your meals or use herbal bitters. These items will help you digest your food and will make it is easier on the system. This makes for an overall, healthier gut.
Also, feed your gut some good bacteria. Incorporate fermented foods and drinks into your daily diet. They range from kefir, kombucha, to sauerkraut and sourdough bread. Full of healthy bacteria and they taste good.
Is that not your thing? Then get a good quality probiotic and take it daily. (you can find good probiotics at health food stores or online at Beeyoutiful)
2. Get to bed on time
Sigh…this one is hard for me. I like to stay up when the house is quiet. However, this is not good for my adrenals or my immune system.
The body needs to get rest and sleep. Sleep is when the body recharges and works on repair. If you are not getting the sleep you need, your body is not building up the way it should. Now a late night here or there isn't what gets you…it's when you make a habit of going to bed late. If you've been exposed to an illness, then it even more important to get those hours of sleep logged in. Your body needs to fight those germs!
For me, I try to get to bed at a good time five night out of the week. It's best to start by turning off those screens and doing something relaxing. A good book and a soak with Epsom salts and essentials oils (which is also great for building up the immune system!) sets the tone for me to go crawl in bed and tune out the world.
3. Move lymph fluid
The lymph system helps carry things out of your system. You want your lymph system to be moving and healthy to beat off illness. There are a lot of ways to do this and picking just one a day is going to help keep your body healthy and happy. One of the easiest ones for me has been dry skin brushing.
Skin brushing involves getting a natural bristle brush (available on Amazon) and brushing your skin before your shower or bath. The bristles stimulate the lymph and help it move through the proper channels. (This is also awesome for stretch marks and cellulite!) Check out this video on the more specifics of how to skin brush.
The truth is, any type of physical movement is great for keeping the fluid moving. Rebounding and TTapp are really awesome for this as well.
4. Keep up with the water
Yes, something as simple as drinking water helps keep the immune system healthy. Water helps to flush our bodies of toxins. It is so easy in the winter time to not drink enough water. But, it is really important to remain hydrated so your body is functioning at its best.
5. Vitamin C
Vitamin C is an important vitamin in our body. Keeping up the proper levels will help the immune system function better. Increasing the amount you take if you start to feel symptoms can some times be enough to stop that illness right in its tracks!! My favorite way to get vitamin C is in citrus fruit, but there are a lot of good supplement out there to have on hand for daily use.
For an herbal vitamin C boost, reach for rose hips or hibiscus. They work well for daily tea infusions and are full of vitamin C. (you can find them at Mountain Rose Herbs or Bulk Herb Store)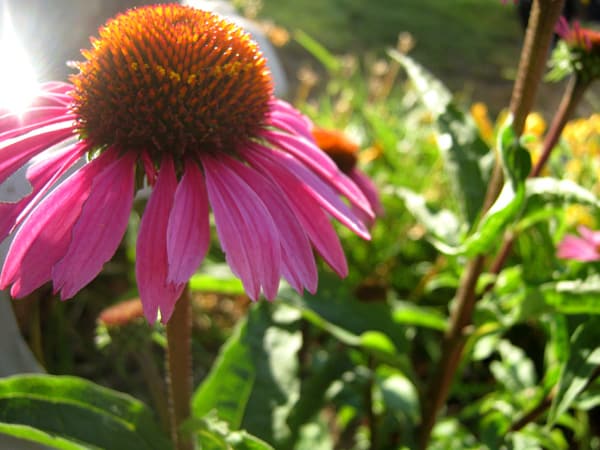 6. Herbs
One of my favorite topics, so I saved it for last. Herbs are amazing for helping reduce cold/flu symptoms but did you know that there are herbs that are great at boosting the immune system? Yes, there are!
Medicinal mushrooms like chaga and reshi, are great in tincture form to give your system a daily push. The best part about the medicinal mushrooms is that they help modulate the immune system, not just boost it. Basically, they help give your system what it needs.
Astragalus is another great herb for daily use. It can help repair and build the immune system without stimulating it. (This is a great option for those with autoimmune conditions)
Echinacea, while a great boost to the immune system can be too much for daily use. (You can also grow immune to it) It can also over stimulate your immune system is your system is already compromised.
See, as promised, the above steps are so easy to make part of your daily routine to keep your immune system fighting of the winter yucks.
So, tell me, what are your favorite tips and tricks to keeping well over the winter?