In a perfect world, we'd never have to wonder and scheme about how we can lower our grocery budget. But lately, we've been doing just that around our house. My husbands truck is eating all our grass-fed beef. (figuratively – in reality, it's getting a new engine and a lot of other parts that quite honestly…I can't remember) Sometimes we need to increase the amount of inexpensive, yet nutritious 'fillers' in our meals, one of which is beans.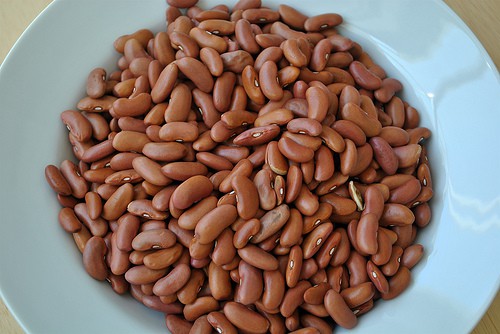 I've always hated beans.
And I mean hated.
Just the thought of them made me gag.
But they can be sooooo good for you.
How good?
Benefits of Beans:
They are a great source of fiber which helps prevent your blood sugar from rising too rapidly after a meal.
Kidney beans are an excellent source of the trace mineral, molybdenum, an integral component of the enzyme sulfite oxidase, which is responsible for detoxifying sulfites. Just one cup of cooked kidney beans supplies 177.0% of the daily value for molybdenum. (source)
A good source of iron
One serving (1c) contains about 15 grams of protein
A great source of folate (folic acid) containing almost 230 mcgs per cup
High in omega-3 fatty acids (source – Nourishing Traditions) (from what I could find the amount could be anywhere between 200 and 1000 milligrams per serving)
CHEAP!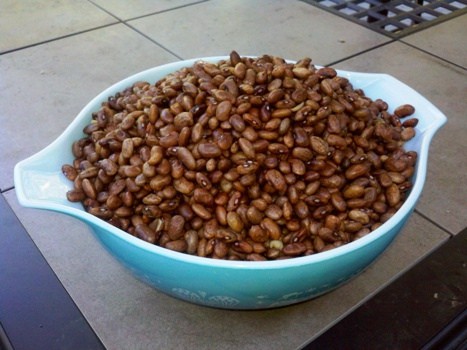 I knew all of this information. I made my kid eat them, I made them for my husband (though I wasn't very good at it! Since I wouldn't test them, they were either over or undercooked. Poor guy) but just couldn't get myself to choke them down. But a couple of years ago, I finally got over myself and decided that if I could try organ meats at Wise Traditions, I should totally be able to try kidney beans right?
And so it was that I made chili that very next day.
I made my chili with more meat than beans (essential for my texture issues when trying new things) so that I could kind of sneak them in here and there and not end up with a whole bite of just beans.
And I also made mashed potatoes.
For me, potatoes are my go-to food to hide new things.
So there I sat and ate my bowl of chili over mashed potatoes. And you know what? I lived to tell about it.
For me, this has opened a whole new world of cheaper cooking, as beans are both nutritious and cheap. I can toss them into so many dishes as fillers without compromising nutrition. Plus now I don't have to make different dinners when I make chili or soup for my husband. 😉
How to Prepare Beans
Beans, unfortunately, can cause more harm than good when not prepared correctly. The phytic acid and other enzyme inhibitors may cause mal-absorption of the nutrients in your food, essentially robbing your body of what it needs. Once a bean is properly prepared these enzyme inhibitors are greatly reduced, increasing not only digestibility but also nutrient content.
Soaking and cooking beans are quite easy, you just need to think ahead – an important aspect of meal planning.
Rinse beans and pick out any stones or debris.
Place in a large bowl, you want it to be able to contain at least 3 times the amount of beans you put in.
Add enough warm water to cover the beans, plus a couple of inches higher.
Most importantly, add 1 Tbsp of whey or apple cider vinegar for every cup of beans you're soaking. Allow to sit for 12-24 hours. (this also makes the skins a bit more firm, which I like, but Todd does not, so many times I do skip this step)
After the beans have soaked for at least 12 hours, drain the water and rinse.
Bring to a boil in a pot with twice the amount of water as beans and skim off any foam that rises to the top. Reduce to a simmer and cook until done. (depending on the bean – small beans take about an hour, large beans almost 2 hours) Add more water if necessary.
Drain off any water remaining after they are fully cooked, season to taste or use in your recipe.
Recipes for Beans
One of the most popular recipe posts here at Naturally Knocked Up is the black bean brownies. They're delicious, not overly sweet, and fairly nutritious as well. I also do a white chicken chili that we love as well as a basic beef chili as well, but that about sums up my official "recipes".
Making beans taste good is essential for getting your family to eat and enjoy them though, which is why I'm glad my friend Katie from Kitchen Stewardship has put out an e-book called "The Everything Beans Book*". She covers everything you'll ever want to know about beans……and if I know Katie – even more!
*Why are they healthy?
*How do I cook with dry beans?
*How do I cook and store in bulk?
*What about picky eaters (the bean haters of the world)?
*How do I avoid gas?
*How do I get past the texture?
*And of course, 30 recipes from appetizer to dessert, all spotlighting the most frugal and nourishing food:  beans.
This recipe book covers simple soups and chilis to main dishes and her version of my black bean brownies.