Getting ready for pregnancy with a fertility diet is so important! The genetic material (and its strengths and weaknesses) of both you and your spouse will be responsible for the building blocks of your baby and what you eat can determine how healthy that DNA will be.* What you eat also affects your hormones.
A diet based on whole foods (foods not processed) will provide you both with the most nutrients possible.
It's also important to eat a variety of different foods to make sure you're getting all sorts of different vitamins, minerals, and nutrients.
One of the most important steps in cost-effective cooking (especially when eating real foods!) is deciding logically and intelligently what your meals are going to be for the week. I can definitely tell that in our season of busyness and lack of time to plan has definitely taken a toll on our grocery budget.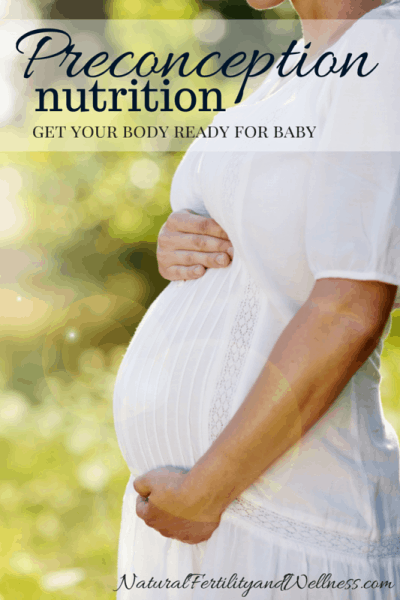 Not only does planning out our weeks menu make grocery shopping and meal preparation easier, we're also able to look ahead to make sure it has plenty of nutrients. Meal planning, along with my fertility foods checklist, has been helpful for me to make sure I'm getting what I need.
The menu below is one of my own personal menus, and I share it to give you an idea of the foods to incorporate into your diet, but please work with your health care provider to personalize a menu based on your medical/nutrient needs.
Most importantly in this menu though is the lack of refined sugars and processed foods which can deplete your body of vital nutrients or don't contain the nutrients you really need in the first place.
The only sweeteners I use are honey, maple syrup,and very sparingly whole cane sugar. I make all of my bread products, mainly through the process of sourdough to make nutrients more available. Water kefir,  kombucha, and fresh milk are my drinks of choice during meals.
Not only does this menu nourish my entire family, it's a great source of very fertility friendly foods.
My preconception menu plan

Monday:
Breakfast – two egg omelet w/ cheese and veggies, sausage,
snack – whole milk plain yogurt and berries, small amount of raw honey only if needed
Lunch – salmon sandwich (canned wild caught Alaskan salmon with homemade mayo) on sourdough bread, steamed broccoli, cheese
snack – cut veggies and avocado aioli
Dinner – roast chicken with gravy made from chicken broth, couple types of steamed veggies with butter

Tuesday:
Breakfast – whole milk yogurt with berries and a touch of raw honey
snack – cut veggies and homemade dip
Lunch – salad w/ red and green lettuce, baby spinach and lots of colorful veggies, chopped nuts, and cubed cheese, organic ranch dressing, steamed vegetables with butter
snack – apple, and crispy almonds
Dinner – tacos with homemade seasoning and shells. Serve with cheese, dark green lettuce, homemade guacamole, creme fraice(like sour cream) and fresh salsa.
Wednesday:
Breakfast – 16 oz. yogurt or kefir smoothie (1/2 cup yogurt or kefir, 1/2 cup raw milk, 1 raw egg yolk, 1 Tbsp melted coconut oil, 1/2 cup frozen berries)
snack – deviled eggs
Lunch – homemade chicken noodle soup made with bone broth
snack – cut veggies and organic dip, cubed cheese
Dinner – grilled or baked salmon, steamed vegetables, baked potato w/ real butter
Thursday:
Breakfast – fried eggs (optional – on whole wheat sourdough toast), smoothie
snack – yogurt and berries
Lunch – chicken sandwich (from leftover grilled chicken) w/ lettuce, homemade mayo, cut veggies
snack – apple, cubed cheese
Dinner – Meatloaf or seasoned hamburger patties, sweet potato fries, salad with homemade dressing
Friday:
Breakfast – soaked oatmeal w/ butter, raw cream, walnuts, and maple syrup
snack – cut veggies
Lunch – taco salad (leftover taco meat, red and green leaf lettuce, some iceberg lettuce, cut avocado, fresh salsa, seasoned brown rice, and sharp cheddar cheese.
snack – orange
Dinner – grilled steaks, lots of steamed vegetables with butter
Saturday:
Breakfast – scrambled eggs w/ chopped spinach and cheese
snack – apple
Lunch – butternut squash soup
snack – yogurt
Dinner – gluten free homemade pizza topped with lots of colorful veggies and healthy meats like sausage
snack – homemade popcorn on the stove w/ real butter and coconut oil
Sunday:
Breakfast – sourdough pancakes,  kefir smoothie
snack – hardboiled eggs
Lunch – salad w/ baby spinach, leftover roast chicken and lots of colorful veggies
snack – apple, crispy nuts
Dinner – Italian Cream Cheese Casserole with steamed veggies and salad
*Please don't construe this to mean that it is our fault should our babies struggle with genetic abnormalities! We do what we can, but ultimately can not control the weaving of genetic material. <3
**many recipes linked to offer allergy and fertility/nutrient boosting options.